Eating Healthy: When you absolutely must eat fast food are there any healthy options?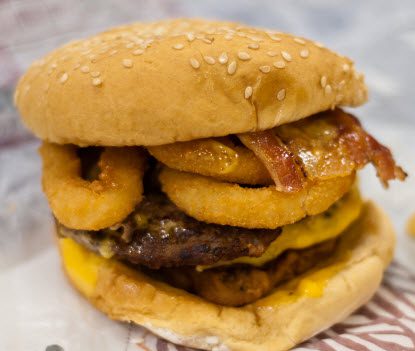 Summer is the time for traveling and enjoying the great outdoors. That means you're probably spending more time outside, but it also means you're likely to be eating on the run.
Many of us find it fairly easy to eat healthy when we're at home and can cook, but what about when you're traveling by plane or car and all you can find is one fast food restaurant after another? Most of us would like to make it home from vacation without gaining ten pounds or having to go on high blood pressure meds!
While fast food joints make most of their money off the items highest in calories, fat and sodium, there are healthier choices available if you just look for them. Here are some of the least lethal menu items from major chains. Alas, the healthiest item at any restaurant is never going to be the double cheeseburger with large fries!

McDonald's
McDonald's is best known as home to the Big Mac and the Quarter Pounder, but the chain does have some menu items that can fit into a healthy diet. But obviously it will be best to stay away from those super-sized calorie packed options.
A side salad made from mixed greens with shaved carrots and grape tomatoes has only 20 calories and 10 mg of sodium, but since it's served with your choice of Newman's Own Dressing, choose carefully. A 2 oz. packet of Newman's Own Ranch Dressing contains 170 calories, 15 grams of fat and 530 mg of sodium.
A better choice, calorie-wise, is Newman's Own Low Fat Balsamic Vinaigrette Salad Dressing with 40 calories and 3 grams of fat or Newman's Own Low Fat Family Recipe Italian Salad Dressing with 60 calories and 2.5 grams of fat.
McDonald's also offers larger salads like the Premium Caesar Salad (90 cals), Premium Bacon Ranch Salad and Premium Southwest Salad (140 each), but again, the devil's in the dressing. Read the packets to see exactly what you'll be adding to those salads.
If your trip to the Golden Arches wouldn't be complete without a burger, a plain hamburger has 250 calories, 9 grams of fat and 480 mg of sodium. If you're watching your salt intake, lay off the catsup.
While a wrap may sound like a healthier menu choice, it's not always better for you than a burger. The Chipotle BBQ Snack Wrap has a promising 250 calories and 8 grams of fat, but also contains 670 mg of sodium, 28% of your daily allowance. The Honey Mustard Snack Wrap has similar stats at 250 calories, 8 grams of fat and 650 mg of sodium. The Ranch Snack Wrap has 270 cals, 12 grams of fat and a whopping 700 mg of sodium, so wraps are good choices calorie-wise, but not if you're trying to limit your intake of salt.
Adding apple slices to your meal will set you back just 15 calories with no fat or sodium, plus you'll be getting 95 mg of vitamin C. Pass up those sodas loaded with high fructose corn syrup and opt instead for a refreshing bottle of Dasani water or a glass of unsweetened ice tea.
If you're thinking of eating breakfast at Mickey D's, don't. None of their breakfast items are healthy enough to be worth mentioning.
If you must finish your meal with something sweet, a kiddie cone has just 45 calories, 1.5 grams of fat and 20 mg of sodium.
Burger King
At rival Burger King, it's even more challenging to find healthy choices. A Whopper Jr. has 340 calories and 19 grams of fat if you order it with mayo, 240 cals and 10 grams without it, plus sodium counts of 510 and 440. Slightly better, at least fat-wise, is a plain Flamed Broiled Burger with 240 calories, 8 grams of fat and 460 mg of sodium. Again, lay off the condiments if you're cutting down on salt.
A 4-piece serving of Burger King's Chicken Nuggets has 190 calories, 11 grams of fat and 360 mg of sodium, minus the sauces. The BK Veggie Burger sounds tempting, but in reality has 320 calories, 7 grams of fat and a whopping 960 mg of sodium—and that's without catsup or mayo.
A side garden salad with Ken's Avocado Ranch Dressing is 230 calories, 21 grams of fat and 520 mg of sodium, most of that coming from the packet of dressing.
The Ranch Grilled Chicken Wrap has 350 calories and 18 grams of fat, plus a nasty 950 mg of sodium, making it a poor choice if you're trying to cut down on salt.
If you must eat breakfast here, the Quaker Original Oatmeal has 140 calories, 3.5 grams of fat and 100 mg of sodium, a major improvement over the BK Ultimate Breakfast Platter which weighs in at 1450 calories, 84 grams of fat and 2920 mg of sodium—not a good way to start your day.
Taco Bell
Although Mexican food gets a bad rap for being loaded with fat and calories, this Americanized Mex chain does have some decent choices, provided you don't mind the small portions involved. Just because one taco has a decent amount of calories and fat doesn't mean you should eat four of them.
A Taco Bell Fresco Chicken Soft Taco has 150 calories, 3.5 grams of fat and 460 mg of sodium, while a Fresco Crunchy Taco has 140 calories, 8 grams of fat and 290 mg of sodium. Make your choice according to whether you're trying to cut down on fat or salt.
If one taco isn't enough to satisfy your appetite, a side of black beans will add just 80 calories, 1.5 grams of fat and 200 mg of sodium. Spice up your taco or black beans with Pico de Gallo or salsa Verde, just 5 calories per serving.
Subway
The keys to finding the healthiest choices at this sandwich chain are to order from the "6 Grams of Fat or Less" menu, skip the mayo and drag it through the garden—pile on the veggies.
For 290 calories, 4.5 grams of fat and 800 mg of sodium, you have your choice of Subway's 6" Black Forest Ham (no cheese) or 6" Turkey with Black Forest Ham and Spinach. For 230 calories, 2.5 grams of fat and 280 mg of sodium, go for the 6" Veggie Delite, probably the healthiest sandwich you'll find anywhere.
Or try the Veggie Delite Salad, at 60 calories, 1 gram of fat and 75 mg of sodium. A 2 oz. serving of Fat Free Italian dressing will add 35 calories and 720 mg of sodium, so use sparingly.
Dunkin' Donuts
While donuts are hardly the healthiest foods out there, this chain has menu items that aren't nearly as laden with fat and salt as the breakfast sandwiches from the major fast food chains.
A multigrain bagel will set you back just 350 calories, 7 grams of fat and 450 mg of sodium, while a wheat bagel is 300 calories, 1.5 grams of fat and 470 mg of sodium.
This donut house also has one of the least-unhealthy breakfast sandwiches in their Bacon, Egg and Cheese on an English Muffin that carries 290 calories, 10 grams of fat and 700 mg of sodium.
Wendy's
There are a few moderately healthy menu choices at this chain, like the Grilled Chicken Go Wrap at 260 calories, 10 grams of fat and 800 mg of sodium or the Jr. Hamburger with 250 calories, 10 grams of fat and 600 mg of sodium. Most filling is the Small Chili with just 180 calories, 5 grams of fat and 790 mg of sodium. The Garden Side Salad comes in at 200 calories, 13 grams of fat and 370 mg of sodium, plus the Fat Free Raspberry Vinaigrette adds only 50 calories and 160 mg of sodium.
KFC
This fried chicken chain has some decent choices as long as you stick to the grilled menu items and side dishes. A grilled breast has 220 calories, 7 grams of fat and 730 mg of sodium, a drumstick 90 calories, 4 grams of fat and 290 mg of sodium. An individual side of cole slaw has 170 calories, 10 grams of fat and 170 mg of sodium, corn on the cob has 70 calories, 0.5 grams of fat and 0 mg of sodium (at least until you add salt and butter) and a side of green beans will add 25 calories, 0 grams of fat and 260 mg of sodium.
Starbucks
While Starbucks is generally considered to be a coffee house rather than a fast food joint, there seems to be one of them on every corner in some neighborhoods, and it may be your only choice while stuck at the airport after everything else is closed.
If you're tempted by Starbucks, be aware that the chain's signature Frappucino drinks can pack up to 500 calories and 9 grams of fat. Better choices include Tazo Awake Brewed Tea with no calories, Brewed Coffees with 5 cals and no fat, or an
Iced Skinny Flavored Latte with 110 calories and 4 grams of fat. Cool items for summer include Tazo Shaken Iced Green Tea Lemonade or Tazo Shaken Iced Passion Tea Lemonade with 45 cals and no fat, and Refreshers beverages that contain 50-70 calories and no fat.
Most fast food eateries will provide their nutritional information when requested, so don't hesitate to ask for more details.
| | | |
| --- | --- | --- |
| | Written on 6/7/2013 by Linda F. Cauthen. | |
Photo Credit:
SteFou!
Like this Article? Subscribe to Our Feed!