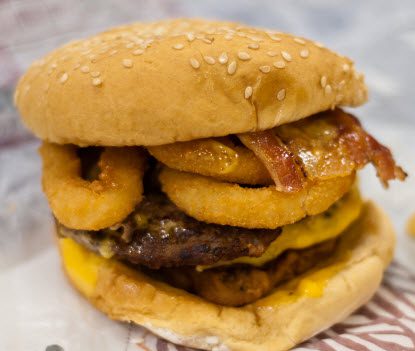 Summer is the time for traveling and enjoying the great outdoors. That means you're probably spending more time outside, but it also means you're likely to be eating on the run.
Many of us find it fairly easy to eat healthy when we're at home and can cook, but what about when you're traveling by plane or car and all you can find is one fast food restaurant after another? Most of us would like to make it home from vacation without gaining ten pounds or having to go on high blood pressure meds!
While fast food joints make most of their money off the items highest in calories, fat and sodium, there are healthier choices available if you just look for them. Here are some of the least lethal menu items from major chains. Alas, the healthiest item at any restaurant is never going to be the double cheeseburger with large fries!

McDonald's
McDonald's is best known as home to the Big Mac and the Quarter Pounder, but the chain does have some menu items that can fit into a healthy diet. But obviously it will be best to stay away from those super-sized calorie packed options.
A side salad made from mixed greens with shaved carrots and grape tomatoes has only 20 calories and 10 mg of sodium, but since it's served with your choice of Newman's Own Dressing, choose carefully. A 2 oz. packet of Newman's Own Ranch Dressing contains 170 calories, 15 grams of fat and 530 mg of sodium.
A better choice, calorie-wise, is Newman's Own Low Fat Balsamic Vinaigrette Salad Dressing with 40 calories and 3 grams of fat or Newman's Own Low Fat Family Recipe Italian Salad Dressing with 60 calories and 2.5 grams of fat.
McDonald's also offers larger salads like the Premium Caesar Salad (90 cals), Premium Bacon Ranch Salad and Premium Southwest Salad (140 each), but again, the devil's in the dressing. Read the packets to see exactly what you'll be adding to those salads.
If your trip to the Golden Arches wouldn't be complete without a burger, a plain hamburger has 250 calories, 9 grams of fat and 480 mg of sodium. If you're watching your salt intake, lay off the catsup.
While a wrap may sound like a healthier menu choice, it's not always better for you than a burger. The Chipotle BBQ Snack Wrap has a promising 250 calories and 8 grams of fat, but also contains 670 mg of sodium, 28% of your daily allowance. The Honey Mustard Snack Wrap has similar stats at 250 calories, 8 grams of fat and 650 mg of sodium. The Ranch Snack Wrap has 270 cals, 12 grams of fat and a whopping 700 mg of sodium, so wraps are good choices calorie-wise, but not if you're trying to limit your intake of salt.
Adding apple slices to your meal will set you back just 15 calories with no fat or sodium, plus you'll be getting 95 mg of vitamin C. Pass up those sodas loaded with high fructose corn syrup and opt instead for a refreshing bottle of Dasani water or a glass of unsweetened ice tea.
If you're thinking of eating breakfast at Mickey D's, don't. None of their breakfast items are healthy enough to be worth mentioning.
If you must finish your meal with something sweet, a kiddie cone has just 45 calories, 1.5 grams of fat and 20 mg of sodium.