Don't Eat That! 10 of the Worst Restaurant Meals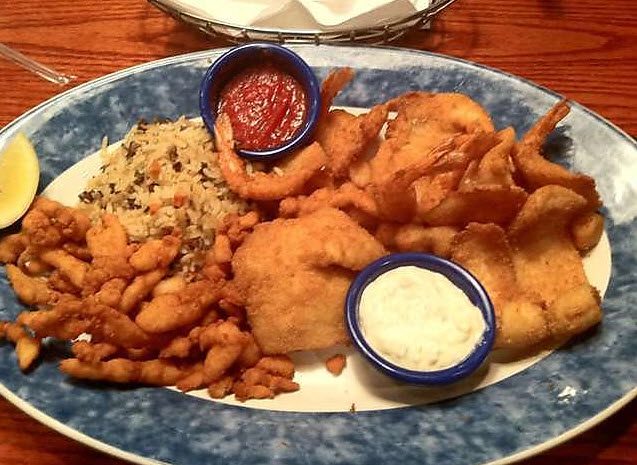 In these lean economic times, many of us have cut back on eating out, and when we do treat ourselves to a meal in a restaurant, it's likely to be in one of the "casual dining" chains.
While the quality of the food served in these establishments is generally better than what you get in the burger or taco chains, that doesn't mean it's good for you.
Here are ten of the meals and sides packing the most in calories, fat and salt.  Be prepared because some of these numbers are shocking.
Applebee's
Burgers aren't likely to be the healthiest item on any menu, but this chain outdoes itself with one that has way too much of everything that's bad for you. The Quesadilla Burger combines a burger patty with a stuffed bacon-cheddar-pepper jack quesadilla and tops it all with Mexi-ranch sauce, then serves it all with fries. The result packs 1,820 calories, 46 grams of saturated fat and 4,410 mg of sodium. The watchdog group Center for Science in the Public Interest calls this dish of disaster, "a prime candidate for Applebee's Don't-Have-a-Stroke (on our property) Special."
California Pizza Kitchen
Let's face it—you don't go to a pizza place when you're looking for healthy grub. Still, CPK's Pesto Cream Penne with Chicken and Shrimp is exceptionally unhealthy, with 1,631 calories and 58 grams of saturated fat. Even if you eat half and take the rest home with you, that's a lot of calories and fat.

The Cheesecake Factory
Another place you aren't going to patronizing when you're on a diet is one with the word "Cheesecake" in the name. As if the cheesecake wasn't enough of a diet no-no, each of the chain's selection of Factory Combinations has over 1,000 calories and 40 grams of saturated fat. Another dish you should avoid is the Factory Burrito Grande with 1,840 calories. Maybe you should just have the cheesecake after all.

Chili's
This chain touts their "fresh take on salads," but the Chili's menu harbors some of the biggest diet-busters around. One major offender is the Southern Smokehouse Burger with Ancho Chile BBQ. This burger packs a whopping 1,290 calories and 139 grams of fat. For most of us, that's as many calories as we should consume in one day. Maybe you should pass up all the burgers on the Chili's menu, since not one has less than 1,000 calories.
Denny's
In addition to coming under fire for the insane amounts of sodium in its food, Denny's dishes up some of the most fat-laden items anywhere. One of the most deadly is the Cheesy Three Pack Appetizer, a trio of mini cheeseburgers served with fried onion rings. There's nothing "mini" about the stats on this dish, which come in at 1,940 calories, 125 grams of fat, 23 grams of saturated fat, 100 grams of cholesterol and 3,840 mg of sodium. Keep in mind this is just an appetizer, so you can bet some diners will be polishing off an entrée after putting this one away.
Olive Garden
Here's another Italian-themed casual restaurant with not-so-healthy food. The worst culprit at Olive Garden is the Tour of Italy Pasta, which included lasagna, breaded chicken parmagiana and fettucine Alfredo, all of them having meat sauces laden with Italian sausage and beef. This tour will cost you 1,450 calories, 74 grams of fat, 33 grams of saturated fat and 3,830 mg of sodium. The last stop on this tour may be the emergency room.
We are just getting going here so don't stop now.  Next up are some BIG name restaurants and the meals that you will want to try and steer clear from if you are concerned about your future health.
Outback Steakhouse
A steakhouse is another type of eatery that's not known for the most health-conscious fare, but this chain hits you from all sides with artery-clogging delights. At Outback, you can start your meal with the Aussie Cheese Fries Appetizer, a big plate of fries layered with cheese and topped with bacon and ranch dressing. This appetizer contains a not-so-appetizing 2,140 calories plus 182 grams of fat. Even if you split this with a friend, that's way too many calories for an appetizer, especially if you'll be following it up with the Outback Porterhouse steak that has 1,009 calories and 31 grams of fat. After all that, you should probably pass up the Chocolate Thunder from Down Under dessert with 1,554 calories.
Quizno's
While this sandwich chain does have some healthy options, the Tuna Melt with Cheese and Dressing isn't one of them. Tuna with lettuce and tomato sounds like a good choice, right? Wrong, when you add in cheese and mayo. The tally for this humongous sub is 1,760 calories, 133 grams of fat, 25 grams of saturated fat, 200 mg of cholesterol and 2,120 mg of sodium. You'd be better off eating four Big Macs.
Red Lobster
No matter what else you have at Red Lobster, you're going to eat the biscuits. Those yummy Cheddar Bay biscuits are the best reason to eat here. Some of us have been known to ask for an extra batch and sneak them out to take home. These puppies pack 150 calories and 8 grams of fat each—and you know you can't eat just one. While Red Lobster does have some health-conscious menu items, the chain also has the infamous Admiral's Feast. This combo of deep-fried shrimp, scallops, clam strips and flounder with rice or baked potato comes in at 1,280 calories and 73 grams of fat. Add to that the calorie total of the biscuits you ate while waiting for them to fry all that seafood and you'll feel as heavy as a whale when you leave.
TGI Friday's
Be wary of all items on this chain's Jack Daniel's Grill collection, especially the Jack Daniel's Ribs & Shrimp. This dish includes a full rack of baby back pork ribs basted in Jack Daniel's glaze and served with fried shrimp and fries. Dig into this and you'll be ingesting 1,910 calories, 729 of them from fat, 81 grams of fat and an appalling 3,900 mg of sodium. Drinking Jack Daniel's straight would be healthier for you than eating this.
Long John Silver
We've saved the worst for last. While Long John Silver's seafood chain is considered to be more "fast food" than "casual dining," their Big Catch meal takes (dis)honors as the worst restaurant meal in America. The Center for Science in the Public Interest has dubbed this combo "Heart Attack on a Hook." The Big Catch includes 7-8 ounces of deep-fried haddock plus fried onion rings and hush puppies. This entrée weighs in at 1,320 calories, 19 grams of saturated fat, 33 grams of trans fats and nearly 3,700 milligrams of sodium. Obviously, the main culprit here is the breading and oil used to fry everything in this dish, not the small amount of actual fish.
Want to avoid these "heart attack on a plate" dishes? Just don't order anything that's fried, breaded or covered in rich sauce. Ask your server to hold the salt as much as possible and if your entrée is super-sized, eat half and take the rest home. All of these chains have healthier options available—you just have to look for them.
| | | | | | | | | | | |
| --- | --- | --- | --- | --- | --- | --- | --- | --- | --- | --- |
| | | | | Written on 8/31/2013 by Linda Cauthen. | | | | | | |
Like this Article? Subscribe to Our Feed!