7 Best Yoga to Lose Weight for Beginners and Expert Yogi in 2023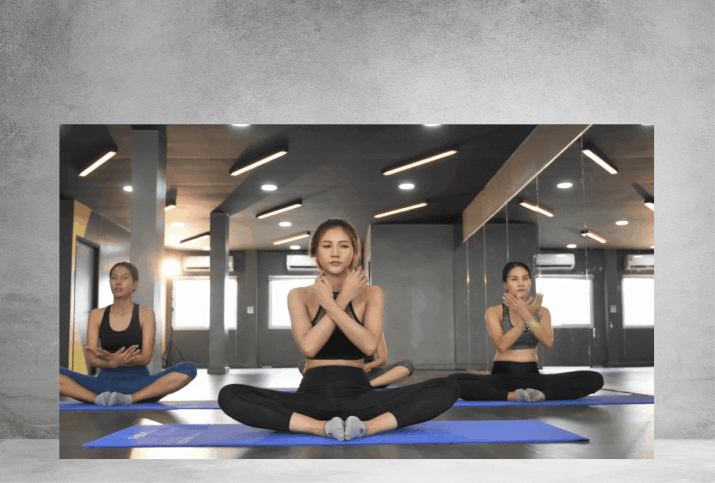 Discovering a stress-free way to build a healthier body may seem like a distant fantasy.
If you are like most people, you will quickly find that subscribing to a gym or even hiring a fitness coach is the easy part. 50% of people who get enrolled into an exercise program drop out within 6 months.
Several reasons sighted by participants who abandon their exercise routines revolved around the lack of sufficient time and overwhelming nature of a majority of the routines used. This is where the ability to have a great workout with the relaxing effect of yoga comes in handy.
You can always use a number of online yoga classes to easily lose weight through the good workout sessions they provide. Some of these yoga for weight loss classes offer terrific advantages by creating easy-to-follow sessions that share the characteristics of both yoga and other workout systems for weight loss.
List of Best Yoga Program in 2021
7 Best Yoga Program for Weight Loss and Burn Belly Fat: Detailed Insight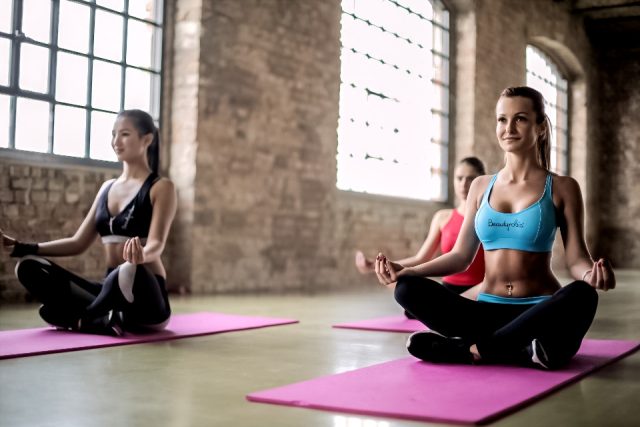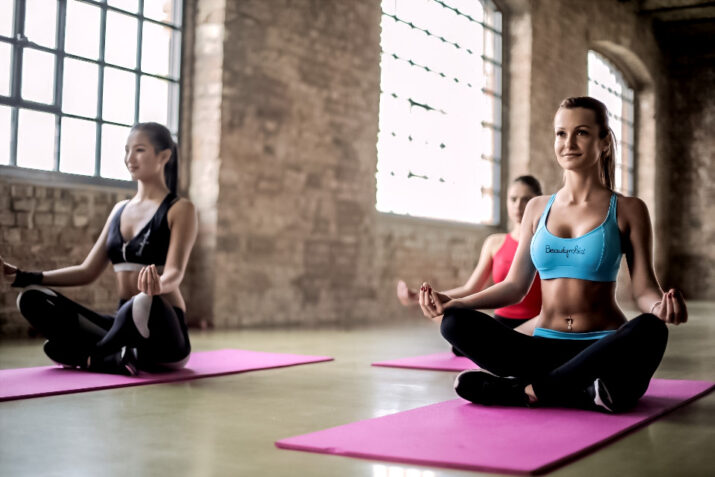 Yoga routines that help you lose weight are known as Power Yoga. Power yoga is a modern form of Yoga that has its roots in Ashtanga Yoga. The yoga asanas (yoga poses) are also beneficial for building strength and increasing stamina.
Consistent use of Power yoga will help you burn calories and lose weight. We've selected a few classes that are worth taking note of if you want to build a flat belly and burn your body fat while enjoying the grounding impact of yoga.
#1. Top Consumer's Choice: Yoga Burn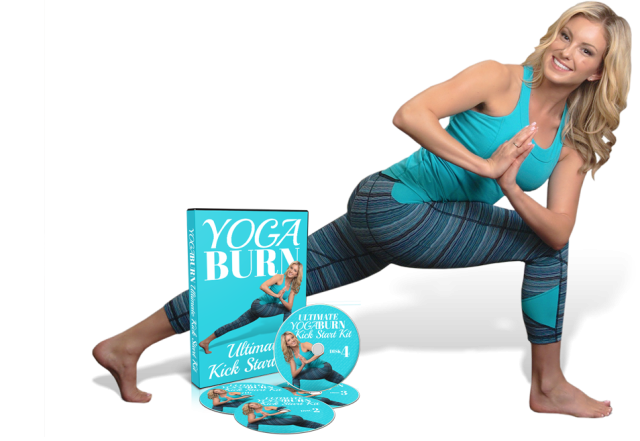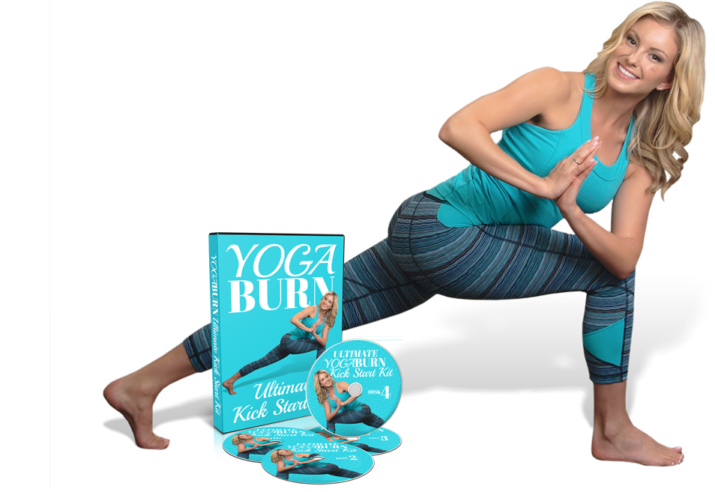 Created by Zoe Bray-Cotton, Yoga burn is a yoga fitness system designed for women.
Throughout the yoga workout videos, Zoe uses the secret of dynamic sequencing to take you through the various poses the system covers. Each of the yoga videos in this program builds on previous lessons in a way that is easy to follow.
At the end of this fat-burning yoga program, you will lose weight and build a great body that feels and looks good. The unique 3 phase program helps you practice yoga in a fun way.
There are yoga lessons to strengthen your abdominal muscles, born fat, and build a flexible body. Each phase is designed to keep your entire body engaged through your entire yoga journey.
As an experienced Yoga teacher, Zoe designed each of the follow-along lessons to be 45 minutes only. The lessons are all digital and can be completed at any time or place without your having to be in a yoga studio.
Participants are encouraged to maintain a regular yoga practice schedule of at least 3 times a week. Yoga Burn is not only about fat-burning yoga, each week, you will also be treated with a bonus yoga video focused on supporting your emotional well-being, self-love, and overall happiness.
Why you should consider Yoga Burn?
Yoga Burn is at the top of our list because of the online community around Zoe Bray-Cotton. It's quite easy to find someone in the same stage as you are. Zoe also pays attention to the emotional health of participants and works really hard to improve your happiness and inner joy.
Price
Digital Download + Physical Collection: $37
2 Digital Download + 2 Physical Collection: $57
Shop at Yoga Burn's Official Website.
Full Article: Yoga Burn Review: Does This Yoga Program Really Work?

ShapeShifter is a Yoga program that teaches you how to use yoga moves to lose fat and reshape your body. ShapeShifter was founded on the premise of yoga's ability to help you lose weight and build a leaner and sexy body.
If you are tired of spending countless hours in the gym and still failing to achieve your weight loss goals, you can take advantage of ShapeShifter's full-length classes and reduce the stress associated with working out in a studio.
ShapeShifter is beginner-friendly. It is ideal for people who have never done a yoga pose before. The practice lessons are short so they do not overwhelm you.
The videos that come with this program are a good resource to learn about alignment and the fundamentals of yoga poses.
Because this program was created with complete beginners in mind, if you have experience in practicing yoga, you may find some of the lessons to be easy. An advantage to this is that the ShapeShifter program gets to cover more grounds than an ordinary yoga class.
The ShapeShifter complete body shaping and fat loss program come with a quick start manual, a video library of yoga poses, the complete ShapeShifter yoga program video, everyday follow-along videos, a manual of yoga poses, and wall charts to support your yoga practice sessions at no additional cost.
Why you should consider ShapeShifter Yoga?
The ShapeShifter yoga program is the best choice for people who have no idea how they can strike their first yoga pose. The lessons spend a considerable amount of time on how you can maintain good alignment and body movements for the maximum impact of yoga.
Price
Get The Entire Shapeshifter Yoga System at $27.
Shop at ShapeShifter Yoga Official Website.
Full Article: Shapeshifter Yoga Review: Does This Fitness Program Really Work?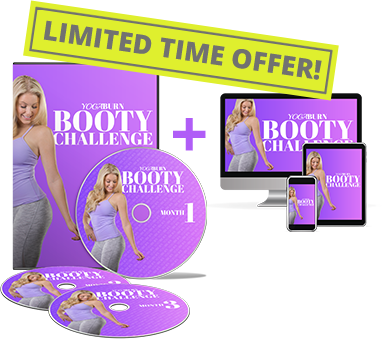 The Yoga Burn Booty Challenge is a yoga workout program designed for women.
Yoga Burn Booty Challenge uses a weight-loss series of yoga workouts designed to strengthen, lift and tone your booty. You can practice these fat-burning yoga workouts from the comfort of your room or anywhere you choose.
The Yoga Burn Booty Challenge takes you through a unique 3 step method of prime, activate, and pump. This method is effective in supporting you to burn calories and improve your metabolism.
Yoga Burn Booty Challenge is based on the Principle of Progressive Overload (P.A.P). The use of P.A.P ensures that you practice each yoga workout in the right order and for the correct amount of time to get the best outcome possible.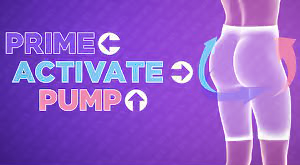 The lessons included in this program are broken into 15-minute clips; each of which contains all the 3-step methods of prime, activate, and pump. You can take advantage of the short follow-along yoga workout to burn fat and build an amazing figure even if you have a tight schedule.
If you feel this yoga program is not the right choice for you, you can request a refund. The manufacturer guarantees a 60 day no-questions-asked money-back guarantee.
Why you should consider Yoga Burn Booty Challenge?
Unlike the other weight loss programs on this list, the Yoga Burn Booty Challenge is focused on one part of the body; the butt. This singular focus makes it possible for participants to witness visible change within a very short period of time.
If you want to get a yoga booty but don't want to wait for the long periods it takes to achieve that using a normal yoga period, this program is for you.
Price
Digital Download + Physical Collection: $37
2 Digital Download + 2 Physical Collection: $57
Shop at Yoga Burn Booty Official Website.
Full Article: Yoga Burn Booty Challenge Review: Does it Program Really Work?
#4. Best Yoga For Kids:

Project Yoga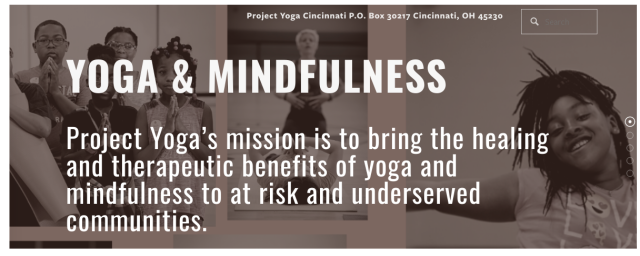 Project Yoga is a nonprofit that brings yoga, mindfulness, meditation, and breathing exercises to at-risk and underserved communities. Most of the beneficiaries of this yoga program have never been exposed to the emotional and physical power of yoga.
Over 40,000 children and adults from the Greater Cincinnati region have benefited from the free regular practice of yoga offered by Project Yoga since 2008. Even during the pandemic, project Yoga continues to bring the benefits of yoga to these at-risk communities through an expert yoga curriculum accessible as digital content anytime, any day.
According to the team behind project Yoga, learning how to stand on one foot isn't as important as learning how to fall and get back up.
Why you should consider the Project Yoga Program?
Project Yoga is the only yoga program on this list that is absolutely free. Originally designed to introduce yoga to inner-city kids, project yoga has helped disadvantaged families enjoy the positive energy of yoga practice.
Being free doesn't mean that project yoga is in any way less organized than the other programs discussed in this list. Every season, scores of professional yoga instructors dedicate their time and expertise to helping ordinary folks reverse their habitual responses to the challenges they face.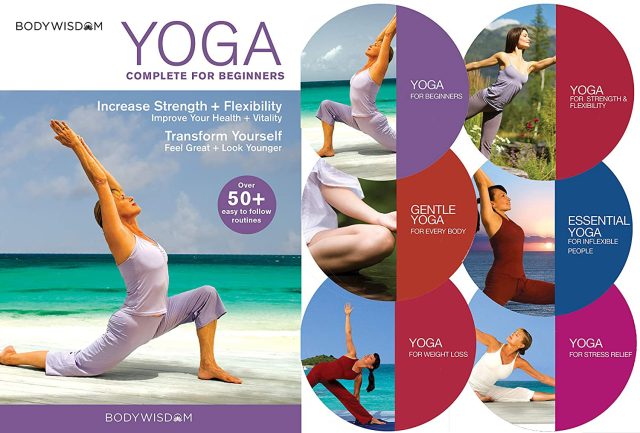 Barbara Benagh, the instructor of this Yoga program has been described by Yoga Journal as "one of the most intelligent and insightful teachers around". With the Yoga for Beginners Deluxe Set, Barbara uses her more than 40 years of experience teaching Yoga to gently lead beginners into an amazing yoga journey.
The Yoga sessions on this DVD are designed to run at just the right pace for people who have never done Yoga or any form of full workout before. If a particular pose is too challenging to achieve, you can pick any of the easier variations to follow and come back to it when you can.
Yoga for Beginners Deluxe contains leg strength and flexibility poses that engage your entire body helping you lose weight, burn belly fat and increase your flexibility. With over 50 expertly taught routines to build strength, lose weight, and help transform how you look and feel.
The complete Yoga for Beginners Deluxe set package contains:
The Yoga for Beginners highlights.
Up to 12 customized routines that take you through the fundamentals of yoga poses
A DVD for Yoga stress relief.
12 easy-to-follow routines that break down challenging poses for beginners in 15-60 minutes.
Yoga for Beginners was filmed on location at Half-Moon Bay, a tranquil and beautiful beach in Antigua. The calm and serene scene adds to the overall experience of the program.
Why you should consider Yoga Complete?
With more than 40 years of experience teaching Yoga, Barbara Benagh has spent more time instructing yoga classes than any other yoga instructor on this list. Barbara's method is ideal for the workaholic beginner.
In an interview for down under school of Yoga, Barbara describes herself as "a technical teacher that gives internal and external alignment in a slow-paced fashion that focuses on breathing"
Price
Shop Yoga Complete for Beginners at Amazon.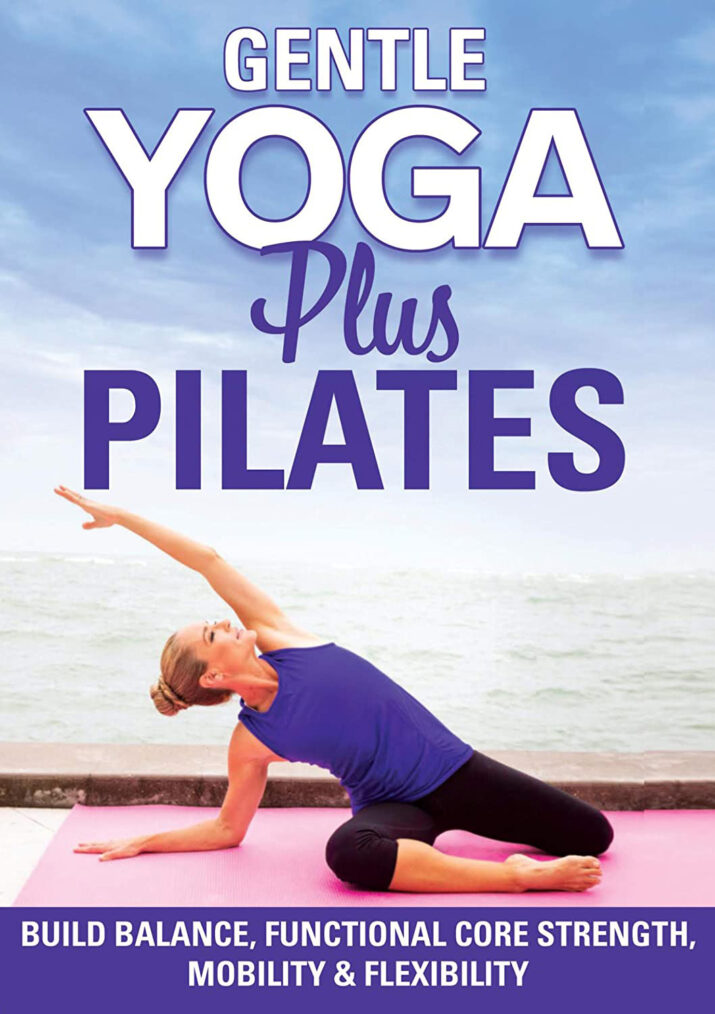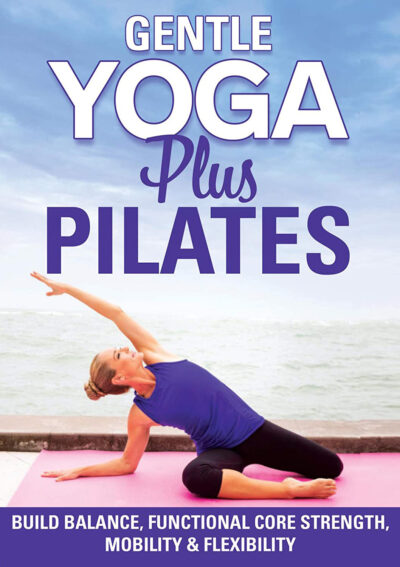 The Gentle Yoga Plus Pilates weight loss program combines the power of the fat-burning workout routines of Pilates and the energizing effects of yoga to create a complementing mix of exercises for fat loss.
Pilates is one of the best exercise routines for people who want to lose belly fat. The Pilates exercise is effective because it targets the places where your body stores most calories such as the belly and other parts of your core.
The Gentle Yoga Plus Pilates is divided into 2 sessions that run for a combined 64 minutes. The instructor takes a gentle approach during each session and does not introduce any workout that will strain your body or joints.
For instance, you will not have to practice the downward-facing dog or sun salutations. However, as you familiarize yourself with the fundamental poses, you may choose to consider practicing the more difficult ones.
The 2 sessions this program is divided into are:
Standing Series
The standing series features workout weight loss workout poses you can only do in the standing position. It is 30 minutes of improving your core strength, balance, and total body flexibility.
Floor Flow Series
The Floor Flow series is 30 Minutes long. Unlike the Standing Series, it features movements that are designed to be performed on the floor. During this series, you will spend all of your time lying on the floor. This will allow you to work on developing deep core strength and at the same time, lose belly fat.
The only equipment required to practice along with this program is a mat or towel. You may also opt for using a sturdy chair and a small, soft pillow to bolster the effect of some of the poses.
Like the other Yoga weight loss programs discussed in this article, the Gentle Yoga Plus Pilates was created with the Yogi in mind, there are on-screen pop-ups that help achieve the poses and postures that will work best for your body.
Why you should consider the Gentle Yoga Plus Pilates?
Jessica Smith's Gentle Yoga plus Pilates is a combo. It integrates the challenging poses of Pilates workouts with power yoga asanas. The on-screen messages that pop up on the video sessions increase real-time interactivity and make the training feel more personal.
Price
#7. Best Yoga Program for Lower Body's Strength: Yoga Fusion Fix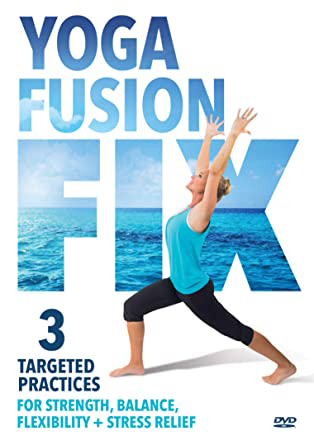 Yoga Fusion Fix offers 3 time-saving targeted yoga practices for strength, balance, flexibility, and stress relief. The videos included in this program are great for people who want to burn fat and check their weight gain.
Yoga Fusion Fix is great for people who have a strain on their time. 15 minutes daily is enough to make you feel a tangible reduction in your body fat.
The yoga practice sessions that accompany this program are easy to do at home and have been divided into 3 yoga workout sessions:
Yoga for Stress Relief and Relaxation
The first session, Yoga for stress relief and relaxation takes only 15 Minutes. It focuses on yoga poses that relieve stress by stretching your body.
Yoga for Balance and Core Strength
The second session is Yoga for balance and Core Strength. The Yoga poses in this session build strength and stamina in the deep core muscles. The Yoga for Balance and Core Strength has a duration of 20 minutes.
Yoga for Strength and Flexibility
The remaining 30 minutes in this Yoga program Yoga poses for strength and flexibility. As a full Yoga workout, this session balances building strong abdominal muscles and general body muscle tone to create a strong and flexible physique.
At the end of the 65 minutes of this weight loss yoga program you will lose weight and by burning off belly fat inducing calories.
Why you should consider Yoga Fusion Fix?
One factor that makes Yoga Fusion Fix standout from the crowd of yoga programs for weight loss is its a beautiful grouping of yoga asanas into progressive sessions. The progressive build-up from mindfulness to fat-burning poses makes the whole program easy to follow and enjoy.
Price
Shop Yoga Fusion Fix at Amazon.
How Can you Lose Weight Through Yoga?
Power Yoga could lead to a great calorie burn over a single class. The yoga asanas in power yoga consist of lots of sun salutation that makes your heart rate soar.
In comparison, gentler forms of yoga such as Hatha yoga require less physical exertion. If you want to lose weight using yoga, you may have to depend on forms of yoga that are physically exerting such as Bitram and Hot Yoga that involve increasingly difficult positions.
How to Choose the Best Yoga Program?
You will gain more from practicing yoga when you learn the right poses. The quicker you learn the right ways to position your body during a yoga workout, the faster you'll be able to enjoy all the benefits associated with yoga routines such as weight loss and building a stronger body.
When looking for a yoga program, it is important to first ascertain which level of yogi you are so as not to overburden yourself.
If you are an experienced yogi and are just looking for an avenue to burn as much fat as you can, you should focus on the programs that have poses that target large muscle groups such as the warrior iii pose, the upward facing dog, the downward dog, the half-moon pose, and the bow pose.
Conclusion: Best Yoga Program for Beginners and Expert Yogi
The ability of Yoga asanas to keep you fully present and enjoy the consciousness of your mind and body working together is what sets power yoga apart from other workouts for losing weight.
We would suggest to try our Top Pick… Yoga Burn Program to lose weight, maintain balance, strengthen your core muscles, flexibility, relaxation, and meditation.
When practicing yoga to lose weight, it is important to watch what you eat and the kinds of stress you subject your body to. To avoid accidents and other bodily injuries, be careful not to overtask yourself.
Yoga is about building resilience and gaining control of your mind and body. Being consistent with any program you choose will greatly determine your progress.
Yoga Programs for Beginners and Expert FAQs
Q: What is a Yoga Program?
A yoga program is a collection of lessons comprising of various yoga poses produced in the form of tutorials or expository classes.
Yoga programs are usually designed to focus on a specific form of yoga or muscle group.
Q: What are the best yoga poses for weight loss?
Even as a low-impact exercise, yoga continues to soar in popularity as a stress-free choice for people looking to lose weight.
Some of the popular poses for burning calories include:
Bridge Pose
Triangle Pose
Cobra pose
Boat Pose
Chair pose
Warrior 2
Bow pose
Q: How does yoga help your overall health?
Practicing yoga has been proved to improve your strength, balance, and flexibility.
There are many yoga asanas (poses) that are very efficient for people interested in losing weight.
Yoga is effective in easing back pain and arthritis.
Yoga is an effective method of managing stress.
Q: Is it safe for anyone to enroll in a Yoga Program?
Before you begin any Yoga workout program, try consulting a Physician and trainer for professional advice on which options are good for your body and follow all safety instructions.