9 Best Pillow for Neck Pain • Top Pillows for Chronic Neck Pain in 2023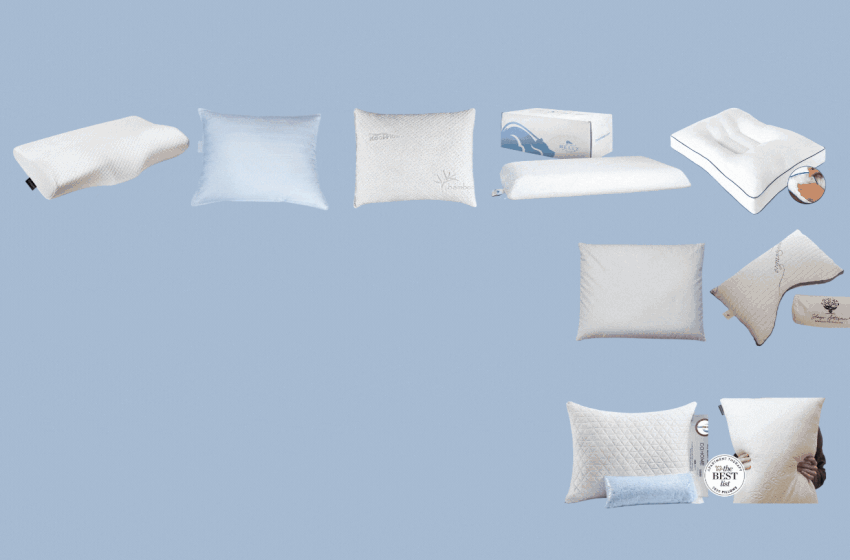 Are you one among people who wake up with neck pain in the morning? Or do you struggle to find a good sleep every night because of some discomfort around your neck?
It's not a surprise as two-thirds of people always find dealing with such problems and it's usual for those who are in the middle age. The neck pain can disappear in a few days or weeks but 10 percent of people are left with frequent chronic issues.
The problem lies in the sleeping position as sometimes our neck is turned to each side and thus our spine is arched. However, the pillow you lay your head on can also play a vital role in continuing the neck trouble.
So, a wise choice of pillow can help deal with neck problems during sleep. We have curated a list of the best pillows that can eliminate your chronic neck pain and offer good sleep.
Best Pillow for Neck Pain in 2023
9 Best Pillow for Neck Pain: Detailed Insight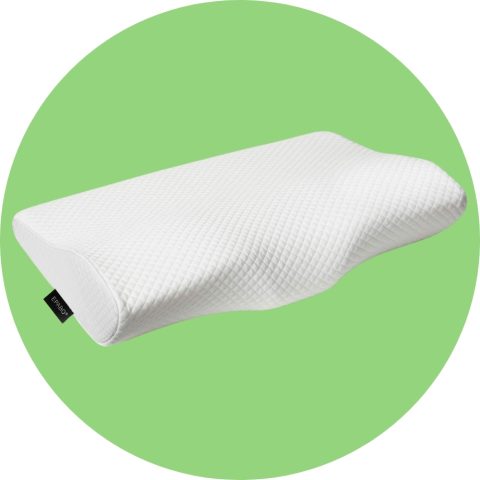 The EPABO is a memory foam pillow that perfectly cradles and supports your head, neck, and shoulders. Reasons for holding the top position in the list can be its ergonomic design, support for all sleeping positions to assist in relieving neck pain.
These memory foam pillows come in white colors with many variant sizes so that the sleepers can choose based on their needs.
This smart orthopedic pillow uses hypoallergenic and breathable materials to give maximum comfort. All materials are chemical-free for better health.
Also, the net jacket with these memory foam pillows includes a sturdy zipper to make washing easy for you. Its bamboo-fiber cover is extremely soft, breathable, easy on the skin, and machine washable.
If you're dissatisfied even after using the pillow for some weeks, you can simply return to the company and get your refund. They offer a 30-day money-back guarantee.
How does it work?
EPABO Memory Foam Pillow provides therapeutic relief for all sleepers and neck pain. Also, its premium fabric can keep the sleepers cool and comfortable throughout the night.
It has an ergonomic design that aligns your neck, head, shoulder, and back perfectly. This helps you fall asleep faster and deeper.
The EPABO pillow is a blend of hypoallergenic rayon or polyester proprietary that makes you feel silky soft. It also gives you better air circulation.
Another advantage of the quality material is that it's allergy-resistant so that you'll not feel any discomfort in the middle of the night.
Pros
Great for neck support with high-quality materials.
Provides ample support for all types of sleepers through its dense-packed memory foam.
Allows the user to adapt the pillow's height for comfortable conditions.
Offers full refund policy
Cons
May not be the choice for people who want a thicker style pillow
Creates too warm to cause odor
Price
Standard Size (21X13X3.9 inches): 5 Options from $22.25
Queen Size (24X15X4.6 inches): 4 Options from $19.94
Queen Size (24X15X4.8 inches):3 Options from $18.84
Shop at Amazon Official Store.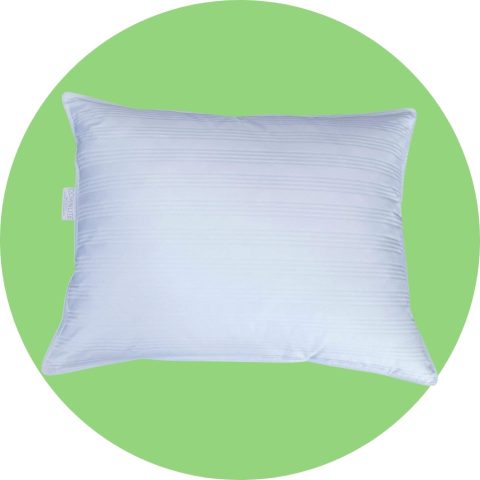 There are several reasons why stomach sleepers must have a pillow like the Downlite in their bedroom. The Downlite pillow not only helps you get rid of neck pain but also offers quality sleep.
The used materials are hypoallergenic and RestAssured Down which helps you get maximum comfort during sleep and remove the neck pain while waking up in the morning.
Very flat by design, the Downlight pillow is specially made for face and stomach sleeping. Also, the pillow is easy to care for as it has a machine washable cover.
The materials imported by Downlite are assembled in the USA so you can expect excellence in the construction quality.
How does it work?
Most people sleep facing the stomach and this can cause frequent neck pain. Considering this, the Downlite has designed the pillow, especially for stomach sleepers.
As the majority of high-quality down products are manufactured to be Hypoallergenic these days. So, Downlite has made the pillow with Hypoallergenic materials to avoid allergies or sensitivities.
The downlight pillows are considered far superior to memory foam ones as they're easily washable and durable enough.
The pillow can be rolled and folded onto itself that helps the sleepers get the shape of whatever they need for comfortable sleep.
Pros
Great for face or stomach sleepers
Final build-up and construction is done in the USA
Easy to care- machine washable and dry
Offers the experience of Hypoallergenic Down
Cons
Includes no removable case
Quickly run out of stocks
Price
Standard Size (20 x 26 with 12 oz): $65.00
Queen Size (20 x 30 with 14 oz): $70.00
King Size (20 x 36 with 16 oz): $75.00
Shop at Amazon Official Store.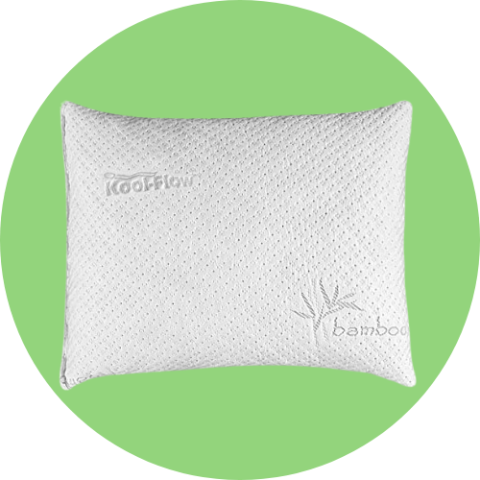 Wirecuttter has praised Xtreme Comforts Shredded Memory Foam Pillow as the best bed pillow. However, it's not the only reason for Xtreme to top the table.
It's an adjustable pillow that allows you to set your level of comfort with the inner zipper. The pillow is also lump-free, lacking stress and soreness to provide a luxurious sleeping experience every night.
The Xtreme pillow supports the back, stomach, and side sleeping and lets you experience cool on scorching nights too.
The manufacturers also ensure that the Xtreme pillows stay firm as new ones for years. They won't fall flat on you even after heavy usage.
Xtreme pillow covers are machine washable that help you sanitize and clean easily. Also, these pillows contain a Quality CertiPUR-US Certified facility that adds an additional bonus.
How does it work?
The Xtreme pillow works to provide greater comfort to sleepers and help improve their health. ​Pinched nerves, tight muscles, poor blood circulation, ​orthopedic problems are some of the issues that come along with uncomfortable pillows and Xtreme pillows can drive them away.
After providing the perfect orthopedic support and alignment, Xtreme pillows help reduce pressure points, support optimum blood flow, offer muscle relaxation and increase overall spin health.
Xtreme features bamboo-supported "Kool-Flow Microvented Technology" that helps create a cover. The cover made through this is soft as a cloud and offers superior air circulation and breathability.
This helps regulate temperature by causing the pillow surface to stay cool so that the sleeper won't sweat during their sleep. The Xtreme pillows thus, offer deep sleep and result in less fatigue.
Pros
Supports stomach, side, and back sleep
Help reduce snoring, neck pain, allergies, and asthma, TMJ, and tingling in your fingers
Contains CertiPUR-US certification
Offers 365 days to return policy
Cons
Need to wait for 10 days for delivery
May make you feel off-gassing smells
Price
Standard Size: $54.97
Queen Size: $59.97
King Size: $64.97
Shop at Amazon Official Store.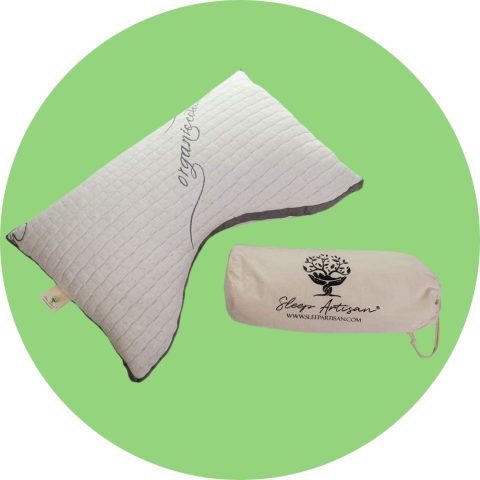 Sleep Artisan Luxury Side Sleeper Pillow is made in the USA and supports environmentally-friendly facilities by providing zero waste. However, this only is not the basis for making the space in the list.
Sleep Artisan pillows contain natural latex which provides superior orthopedic support and personalizes your head positioning, spine alignment, neck, and shoulders.
Used Natural latex is comfortable, cool, and hypoallergenic. Thus, the pillow not only reduces neck pain but also helps improve your sleep quality.
The Sleep Artisan Pillow also comes with a cover that is made of organic cotton and a polyester or hemp blend. The cover offers a thick level of softness and comfort.
The manufacturers also offer a 30-day trial to ensure that the pillow meets your expectations or not. Besides, Sleep Artisan Luxury Side Sleeper Pillow comes with a 3-year manufacturers' warranty.
How does it work?
The Sleep Artisan Pillow works best to provide maximum comfort and remove the neck trouble. Though the pillow is specially designed for side sleepers, it's also a great option for back sleepers and combo sleepers.
The Sleep Artisan Pillow allows unzipping the pillow cover to adjust the firmness of your pillow. As the pillow is filled with Natural latex, this firmness lasts for years.
The Artisan Luxury Pillow is breathable that helps release a considerable amount of air through the latex fillings and up through a cover made of organic cotton. This allows the body to get a comfortable temperature and to escape the extra heat inside the pillow.
Made of Natural latex, The Artisan Luxury Pillow resists dust mite allergies and bed bugs. Thus, it's great comfort with health benefits as well.
Pros
Fully adjustable pillows and offers great spinal support
Natural materials and Handmade in the USA
Offers allergy-resistant, dust mite resistant, and inhospitable to bed bugs facilities
Helps relieve neck pain and support combo, side and back sleeping
Cons
Need to buy on Sleep Artisan's website for pillowcase
Not a great option for the stomach sleepers
Price
Sleep Artisan Luxury Side Sleeper Pillow queen size: $109.99
Shop at Amazon Official Store.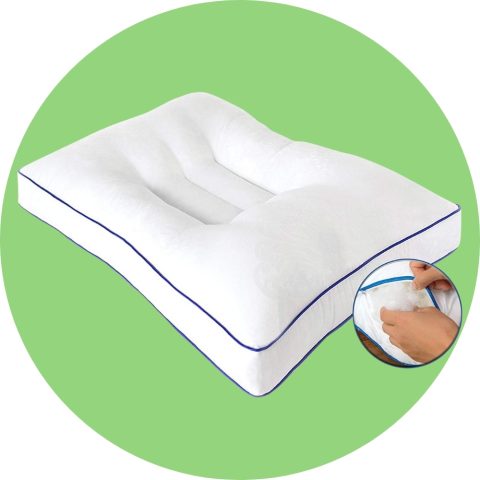 The bigger advantage of Nature's Guest Cervical Pillow is that both chiropractic and orthopedic doctors recommend it. It is specially designed for back sleepers and people who shift from back to side sleeping.
It has a Cervical Support pillow design that includes a 'built-in' neck roll cushion. This provides optimal cervical support for a more restful, peaceful sleep.
Nature's Guest Cervical Pillow is also great for back, shoulder, and neck pain. The optimal cervical support provides correct alignment and alleviates pain.
This cervical pillow has earned a wide range of positive reviews and happy customers have praised it well.
The reason behind it is the refund facility the manufacturers offer. They offer a 30-day money-back guarantee.
How does it work?
Nature's Guest Cervical Pillows are designed with premium quality and craftsmanship. This provides extra comfort during sleep and relieves body pain due to uncomfortable sleep.
It is fully adjustable with a dual zipper design that allows full access to pillow filling. Once you set up the needed firmness, the pillow can be great for back and side sleepers.
With the silk trim feeling, the pillow offers increased air circulation for better sleep. It also helps reduce migraine headaches, herniated discs, arthritis, and many spinal issues.
Pros
Help get rid of neck stiffness and pain
Offers adjustable firmness and density
Helps improve sleep quality
Available at a cost-effective price
Cons
Only available in two sizes
Adjusting the firmness can be tedious
Price
Queen Size Cervical Pillow (17.32 x 13.3 x 6.6 inches): $48.44
Standard Soft Size Cervical Pillow (17.32 x 13.3 x 6.6 inches): $109.99
Shop at Amazon Official Store.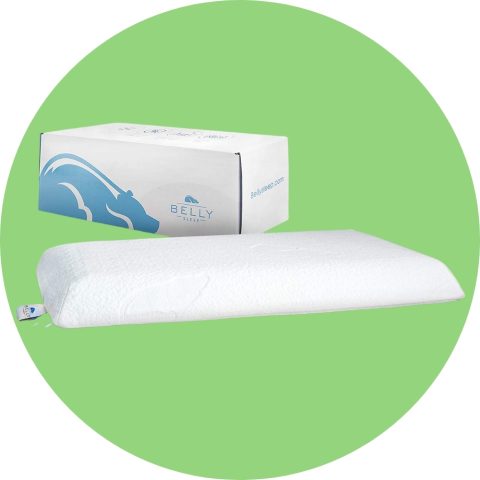 The Belly Sleep Pillow is specially designed for stomach sleepers. Like others, other memory foam pillows, Belly Sleep also is made of similar materials but it includes quite a slim profile (2.5 inches).
The additional benefits are necessary to be on the list of best pillows for neck pain. Belly Sleep thus, includes the cooling gel to reduce the trapped heat and sweat during sleep.
The pillow is also beneficial for spinal support. For this, it allows equal pressure around the areas of the neck, head, and spine and helps reduce the pressure points.
It also comes with a removable cover that is made of bamboo and polyester. The used materials drain the moisture caused by skin and remove the order from it.
With all that, the manufacturers offer a 30-night trial so that users can decide whether Belly Sleep is beneficial or not. If they're not satisfied with the experience after using it for some weeks, you can simply return it and get their money back.
How does it work?
Belly Sleep offers spinal support for stomach sleepers and creates comfort for sleeping. Considering the belly sleepers, the curved edges are designed to head and neck rotation for making equal pressure around areas of the neck, shoulder, and head.
The best of the pillow is its cover which is made of 60% Bamboo and 40% Polyester. The pillowcase thus avoids moisture caused by the skin and odor from that moisture.
The Belly Sleep also inserted a gel particle technology through the pillow to regulate the temperature and provides a cool environment removing the overheat caused by the body.
This ergonomic pillow is designed considering softness and firmness with the right balance. So it lets you feel soft and lasts for several weeks.
Pros
Offers great spinal support
Helps regulate the temperature with cooling gel
Provides moisture and odor resistant pillowcase
Offered at reasonable price
Cons
Not good choice for combo and side sleepers
Has no verity in size
Price
The Belly Sleeper Pillow is priced at $49.99
Shop at Amazon Official Store.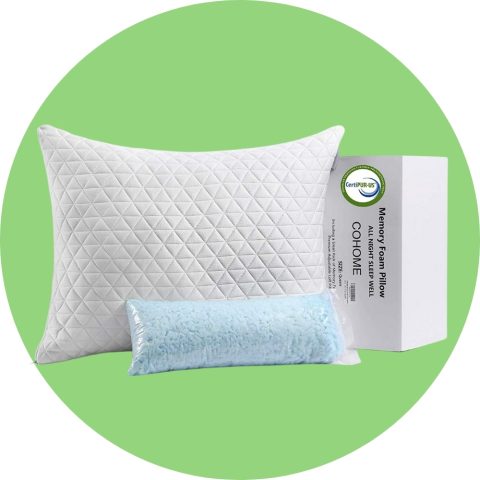 COHOME Memory Foam Pillow is another item on the list and it comes with extra filling so that you can adjust the height to suit best back sleeping.
The filling is designed with gel and memory foam that keeps your body cool, draining your sweat during sleep. It keeps the shape for your laying area and still allows the soft feeling.
The pillow includes a hypoallergenic and washable cover so that you can easily wash and sanitize the pillowcases.
To ensure your health, the pillow contains the CertiPUR-US certification which can be an additional bonus.
How does it work?
The available COHOME pillow contains a pillowcase made of bamboo fiber. It helps to get the best sleeping experience for the side, stomach, or back sleepers.
The pillow covers are made of 95% memory foam material and 5% mixing gel-air foam. This helps you feel no sleeping pressure and makes you feel cool avoiding heat caused by the moisture from the body.
The materials used in the pillow are made of bamboo fibers and polyester, which includes the facilities like softness, breathability, and hygroscopicity. It makes you feel soft and very comfortable.
The manufacturers also consider the users' safety and for this, they avoid using the harmful substances ozone depleters, TDCPP, PBDEs, TCEP flame retardants, and lead.
Pros
Contains plant-based materials in the pillow's feeling
Avoids harmful substances
Possesses the CertiPUR-US certification
Includes cooling gel facility.
Cons
Quickly run of stocks
Available in a single size
Price
Standard size (20×26 inch) : $36
Shop at Amazon Official Store.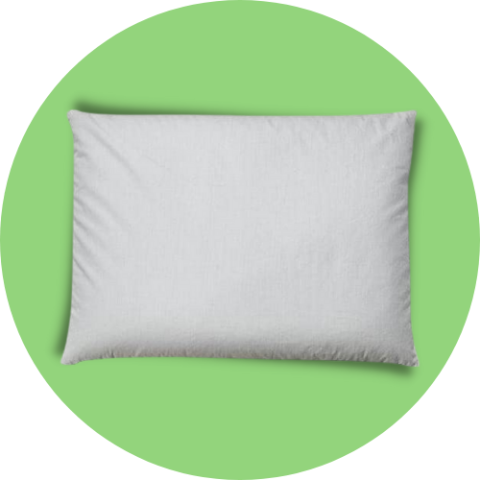 Sobakawa Buckwheat Pillow is listed on Amazon's Choice because of its quality material, the comfort it offers, and its price. The manufacturers claim that this pillow has been used for centuries.
Buckwheat Pillow contains 100 % buckwheat hulls that shape themselves to your head and neck and give you comfort during your sleep.
These hulls possess the properties that make the pillow more comfortable, supportive, and therapeutic for better sleep.
The manufacturers also claim that Sobakawa Pillow lasts for several weeks.
How does it work?
The Sobakawa Pillow includes 100% Buckwheat Pillows with adjustable support. It helps relieve pain in the neck, head, and back.
The pillow also features cooling facilities to help you eliminate the sweating problem allowing complete air circulation.
It also comes with a cover that contains a zipper. It helps protect the body from dirt and oils.
Pros
Comes in several variants
Great for neck or back sleeping
It's versatile: reading, stretching or doing yoga
Gets easily shaped
Cons
Can be noisy
No machinable wash
Price
Standard size: 2 options from $27.99
Original Queen Size: 2 options from $50.00
Sobakawa Queen: 8 options from $34.26
New Edition – Sobakawa Traditional: 1 option from $67.83
Sobakawa Traditional: 10 options from $20.83
Shop at Amazon Official Store.
#9. Best Organic Pillow for Relieving Neck Pain:
Avocado Green Pillow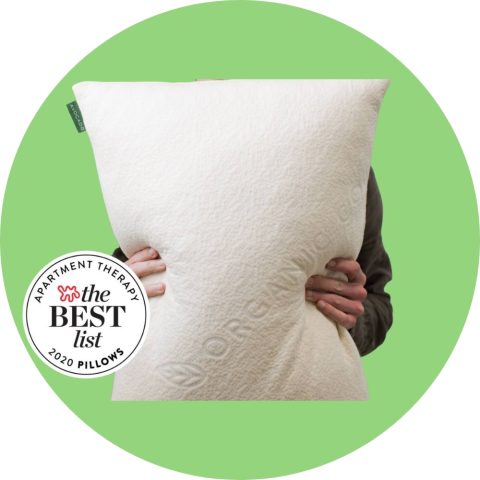 Avocado Green Pillow is on the list for its environment-friendly concept and neck pain relieving facility. It is great for stomach, back, and side sleepers.
Made in the USA, the Avocado pillow doesn't contain petroleum-based polyurethane foam and other toxic flame retardants. For this, it is certified from and GOTS.
It also includes an adjustable loft that helps increase and decrease the pillow's thickness. Unlike other pillows, Avocado pillows last for longer because of their natural materials.
Ideal for hot sleepers, the Avocado pillow helps relieve head, neck, and shoulder pain.
Another advantage of Avocado Green is that it offers free shipping and it avails to all 50 states. You can also get a 100-night sleep trial along with a one-year warranty.
How does it work?
Avocado Green Pillows are great for Combo Sleepers and those who are vegan. Besides, these pillows also offer several health benefits including relief from neck pain.
The Avocado pillow features a medium-plush feel that makes you feel more soft and comfortable. Here, the medium firmness helps bring a correct alignment.
It also comes with refill bags with additional pillow filling for total adjustability. Whenever you need to adjust your support level, you can increase and decrease the quantity of filling.
Latex foam absorbs better than memory foam pillow, cotton, and feather pillows. So, unlike using a feather pillow, this material, Avocado offers an additional cool feeling to the sleepers and removes the odor.
Pros
Helps avoid stiffness and headaches.
Offer 100-night trial and includes free shipping
The materials used in the pillow are GOTS and GOLS-certified
Includes adjustable loft
Cons
Available only on the official website
May need time to deliver the order
Price
Standard size (19″ x 25″) : $80
Queen size (19″ x 29″) : $89
King size (19″ x 35″) : $98
Shop at Avocado Greens Website.
How We Rank the Best Pillow for Neck Pain?
We have presented the ranking list of best pillows for neck pain based on some considerable factors which are listed below.
Used Materials
For relieving neck pain, we have focused on latex and memory foam. Besides, there are also mentioned ergonomic pillows that provide sound cervical support.
Company's reputation
The ranking also has some inclination over the company's fame. How has it been doing since the establishment? How long has the company been serving out in the market? These queries also matter.
Reviews
After buying, the consumers have left several mixed reviews for the product. So, this helps the future buyer to be conscious about the experience of previous consumers to take a wise decision.
Prices
The ranked pillows for neck pain have come in a sophisticated budget so that everyone can get the benefit from it.
Warranty
The warranty and guarantee are the additional benefits that ensure the buyer that their hard-earned money isn't going anywhere.
Certification
The user's safety is important and to prove it, the manufacturers need to go through different tests with their pillows and get some trusted certificate. It helps buyers to ensure that they're using the safe product.
How to Choose the Best Pillow For Neck Pain?
Before you buy or select the pillow for you, make sure, the available pillow is beneficial for your health. For this, you can base the below factors while choosing the best pillows for neck pain.
Filling material and Cover material
The filling and loft materials matter in proving comfort. Good quality materials always are sourced from the plants. So check out the materials whether they are safe or harmful.
Shape
The pillows can be available from V-shape to a contour and each shape has its own facilities. So, you need to choose which shape of pillow best provides comfort.
Size
The companies or manufacturers offer several sizes and variants in pillows. So you need to select the pillow that best fits your bed and your head.
Warranty or Guarantee
These allow you to replace and get refund facilities so that you can avoid wasting your money.
Reviews
Before buying randomly, it's wise to read or view some reviews about the product to know more detail about it.
Conclusion: The Best Pillow for Neck Pain
Changing a pillow can save you from neck pain and there are several options out on the list. You can choose the best one based on availability and the above-mentioned tips.
For example, EPABO Memory Foam Pillow can be the best choice for all sleepers whether you're back, side, stomach, or combo sleepers. With comfortable support, an air-circulation facility, and a 30-day trial, the EPABO pillow can stand on your expectation.
Best Pillow for Neck Pain FAQs
What is Pillow for Neck Pain?
Pillow for neck pain is designed to alleviate neck pain. Unlike the common pillows, these types of pillows contain memory foam or latex foam with some special level of firm support.
Health benefits of Pillow for Neck Pain?
Pillow for Neck Pain can help avoid chronic neck pain from uncomfortable sleeping habits and issues associated with it. Besides, these pillows also come with cool gel technology to remove odor and allergies.
How does Adjustable Pillow help to sleep better when you have chronic neck pain?
The adjustable pillow comes with a zipper that allows you to inflate or deflate the filling based on your condition. if you have chronic neck pain, this helps you give the needed support and a better comfort feel.
Like this Article? Subscribe to Our Feed!
John is an avid researcher and is deeply passionate about health and finance. When he's not working, he writes research and review articles by doing a thorough analysis on the products based on personal experience, user reviews and feedbacks from forums, quora, reddit, trustpilot amongst others.