7 Best Mass Gainers for Building Muscle • Top Product Reviews of 2023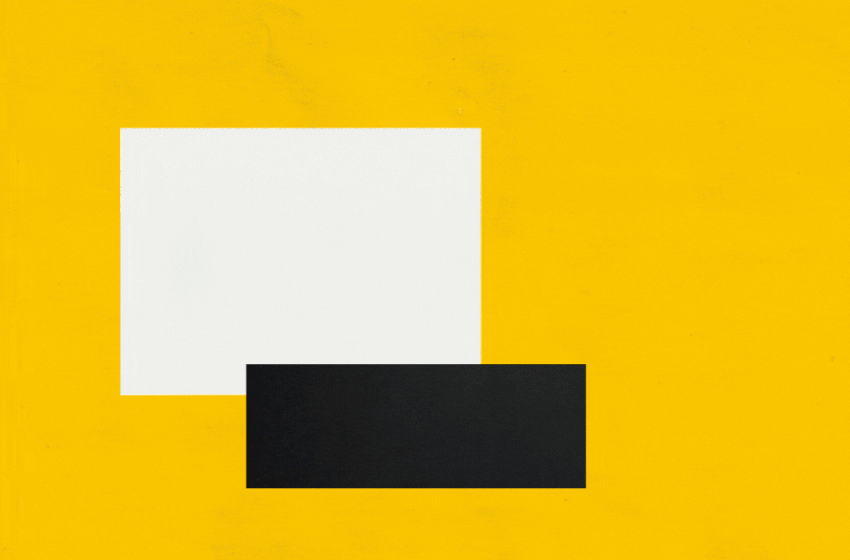 In a culture focused on decreasing weight, some people desire to grow muscle, boost strength, and improve performance. These people are most likely already working out hard at the gym, consuming a lot of protein, and taking at least a few sports supplements.
But what if you reach a plateau and the size simply isn't working any longer? Then mass gainers are the solution to your problem.
Mass gainers may help you gain muscle while reducing fat growth. Though each of us knows that gaining the proper weight in a thoughtful and gradual manner may be as difficult as losing weight.
And you might think that when you consume a large number of calories, you have to perform a lot more workouts. In this thorough guide, you'll discover the 13 best mass gainer supplements on the market today that will help you in your daily workout program.
Best Mass Gainer for Building Muscle in 2023
7 Best Mass Gainer for Building Muscle: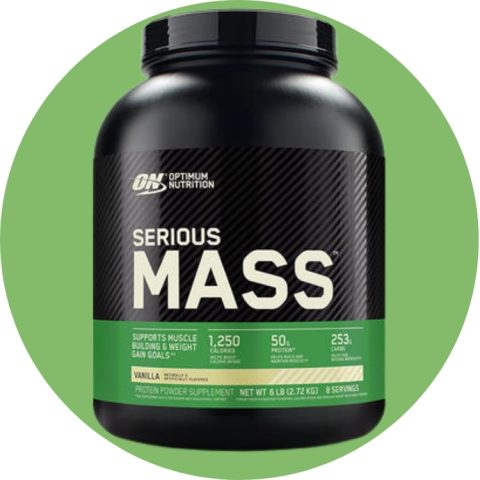 Serious Mass is a weight gainer that is absolutely brimming with calories. It gives you everything you need to pack on the pounds and get the body you've always desired.
This product includes 1250 serious calories, the majority of which are sourced from protein-sparing complex carbohydrates and a high-quality protein combination consisting of calcium caseinate, whey protein concentrate, and egg albumen.
Glutamine, creatine monohydrate, inositol, and choline have been added to maximize each strength training program, while a comprehensive vitamin and mineral profile ensures your body receives the balanced nourishment it requires.
Serious Mass's nutritional profile, like all other Optimum Nutrition products, is significantly better than comparable brands, giving it a good value for your money. You will surely increase muscle mass, but you will also acquire fat, which is to be anticipated from such a weight gainer.
How does it work?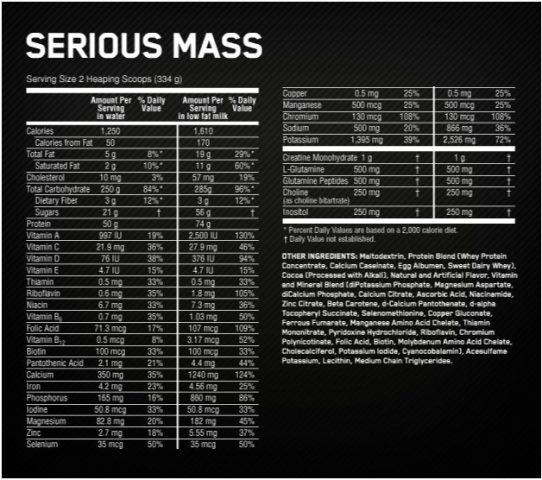 Optimum Nutrition is a well-known brand in sports nutrition, providing a wide choice of high-quality gainer protein powder and supplements for the average gym-goer, sports enthusiast, and even professional athletes.
Each serving of Optimum Nutrition Serious Mass will give you 250g of carbs, 24 vitamins, 50g protein blend with creating, glutamine and minerals. Its taste is best because it is sweet and rich and of course it hides the fact that it contains enormous calories for your weight gain.
Whey isolate protein provides a high quantity of essential amino acids that is ideal for muscle development and repair. The principal carbohydrate source is maltodextrin, which has a high glycemic index. As a result, the product is more suitable for usage during training sessions.
The egg and casein in this product are designed to keep you going for longer than the quickly absorbed whey proteins. Simply saying, this mass gainer will give you doses to your exercise that helps to minimize prolonged blood sugar spikes while also serving as a fuel and/or healing source for muscle.
Pros
High-Calorie blend that is best for muscle building while gaining weight
Fuel-booster to daily workouts
Contains 25 minerals and vitamins
Enhances muscle development and maintenance
Cons
Can result in bloating if taken in excess
Progress will differ on one's physique
Price
Optimum Nutrition Serious Mass
All flavors (6 lbs): $43.99
All flavors (12 lbs): $63.99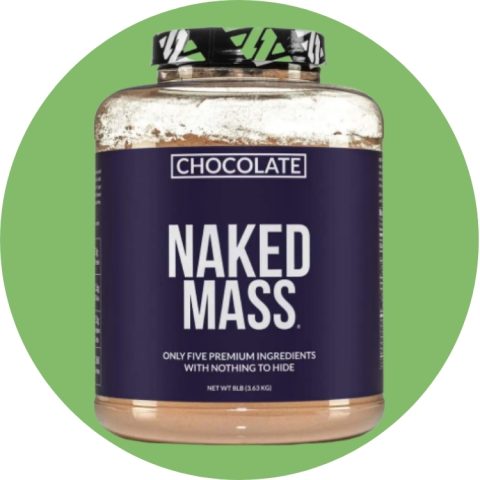 Naked Mass is a mass gainer supplement that has been well-known and safe. It is a good addition to the weight gainer market since many competitors include fillers, flavoring, and sugar additions.
This mass gainer will provide you the assurance that each 1,250 calorie serving contains muscle-stimulating protein rather than fat-producing cheap carbs.
It appropriately claims just three ingredients and this product is available in vegan and in three flavors: chocolate, vanilla, and unflavored.
If you're looking for a high-quality mass gainer with 50 grams of protein in a 1,250 calorie mix, Naked Mass is one of the best options. However, it is more expensive, but the certainty of a clean product may be worth the cost.
How does it work?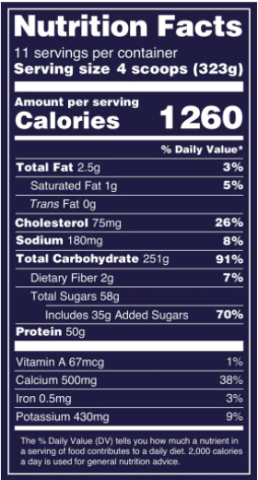 This product gives your body an immediate boost of amino acids from easily digestible quality proteins in the form of both rapid-acting whey isolate and delayed digesting casein.
Naked mass gainer contains the necessary proteins required to sustain an anabolic muscle-building condition. With maltodextrin, will provide you with the rapid-release energy you need to go through your exercise.
There are no sweeteners or colors in this product and it doesn't contain GMOs, soy, and gluten. As a result, there are no known negative effects.
Its whey protein will also supply you with a rapid-acting protein supply that guaranteed your muscle-building condition. Lastly, Casein provides you with a delayed-release version of proteins that will persist all night while you sleep to repair and rebuild muscle fibers.
Pros
Free from sweeteners, gluten, and artificial additives.
Provides a high-calorie and protein content for your body and muscles
Low in fat and sugar and has whey isolate
Has an unflavored version
Cons
Limited flavor options
Mediocre taste
Price
Weight Gainer Protein Supplement (All other flavors): $64.99
Note: Subscription will give you less than 8% discount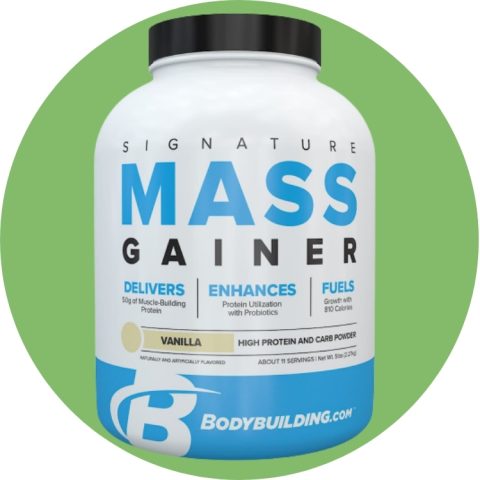 Signature Mass Gainer rocks the market with its daring and clean way to transform your body fully. Its blend will give you a full-powered 810 calories, 133 grams of carbs with 50 grams of protein for muscle growth.
It contains probiotics that will help your body to utilize every protein possible. With its satisfying and rich taste, your body will crave more.
This Signature Mass Gainer puts perfect high-quality protein sources into one and its prime role is to provide key amino acids that will help you in your muscle development. The vast bulk of the protein is derived from pure, fast-digesting whey protein isolate.
Whey and milk protein concentrate has excellent amino acid profiles and good bioavailability. Casein completes the dairy proteins by giving a steady release of amino acids that keeps muscles energized for hours.
How does it work?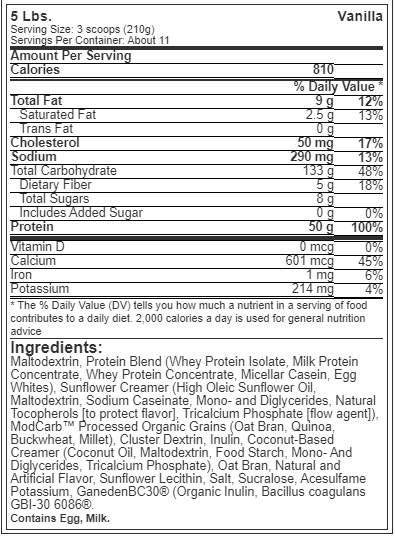 Its carb content provides your muscles and liver the energy they need to lift heavy and workout hard. It has a high protein content and a low carbohydrate content that aids in the addition of muscle growth without the addition of unneeded lipids and promotes fat loss in the body at a much faster pace.
Maltodextrin contains fast-digesting carbohydrates, while ModCarb and Cluster Dextrin have slower-releasing carbohydrates that have a reduced influence on blood glucose levels.
Fat in this weight gainer is an excellent tool for clean bulking since our bodies need fat to generate hormones, build cell walls, absorb fat-soluble vitamins, developing neurons, and perform a variety of other critical activities.
The probiotics in our Gainer have been particularly designed for use in powder supplements. This will assist you in your digestive health and for protein absorption also for you to gain lean muscle mass in no time.
Pros
Supports both muscle and mass increases.
Assist with quick muscle recovery
Weight increase when sober
Keeps fat growth to a minimal
Cons
Limited Flavor Options
Clumps will occur when shaking
Price
Signature Mass Gainer (Non-member): $27.74
Signature Mass Gainer (BodyFit member): $24.96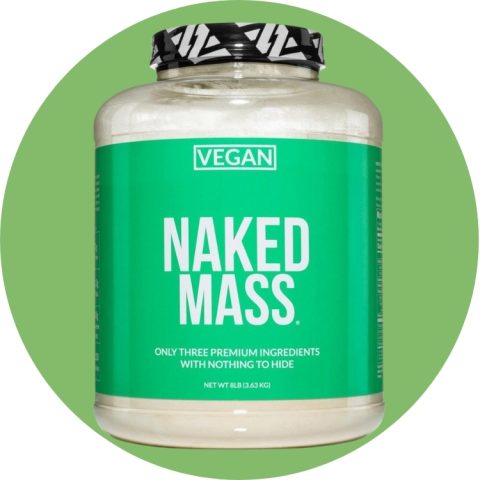 Vanilla Vegan Naked Mass is the best plant-based weight gainer supplement available. It is the ideal combination of full plant-based proteins and carbs to help muscle development and weight gain, combining our premium pea protein powder with brown rice protein powder.
If you're looking for a high-quality weight gainer with 50 grams of protein in a 1,230 calorie mix, Naked Mass powder is one of the best options. However, it is more expensive, but the certainty of a clean product may be worth the cost.
If you're a "hard-gainer," it might be difficult for you to consume an excess of calories in order to gain weight. Per serving of its vanilla flavor has 1230 calories, making it much simpler to gain the extra calories you need.
Furthermore, this gainer protein powder is advised for people who are plant-based or have dairy-protein blend issues and want to gain or maintain their weight. This weight gainer has a high protein content and a complete amino acid profile, giving nourishment to help in healthy weight gain while also supporting your general health.
How does it work?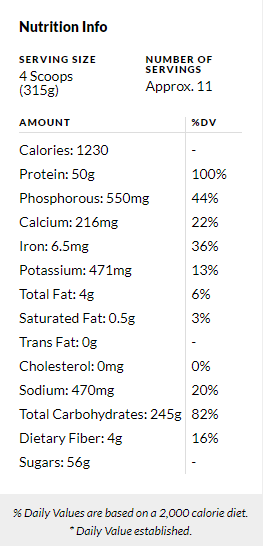 Each serving of Vegan Naked Mass has 252 grams of complex carbs, which will provide you with extra energy and extra calories to go through a hard workout.
One of the components in this vegan mass gainer protein powder, organic tapioca maltodextrin, has been demonstrated to assist preserve anaerobic power to increase strength and workout performance.
It's not simply about a calorie excess if you want to increase your muscles. You must also consume enough protein to grow muscle. Naked Pea and Naked Rice are combined in Vegan Naked Mass to deliver all nine necessary amino acids for muscle development and recovery.
Overall, this is one of the best ideal plant-based mass gainer supplements to whey for people wishing to bulk up on a plant-based diet.
Pros
Promotes exercise performance and strength-building
Promote muscle recovery and growth
Recommended for individuals who are on a plant-based diet
Gives an energy boost to your intense workout
Cons
Contains chemicals including lead
May induce bloating if taken in excess
Price
Vegan Mass Gainer Protein Supplement: $59.99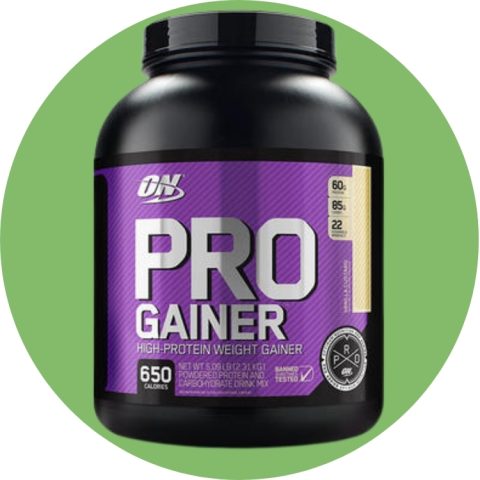 On Pro Weight Gainer is a high-protein mix that provides calories that are important during recovery. Each drink has enough supplementary protein, carbohydrates, vitamins, and minerals to complement the amount you receive from a healthy diet.
Furthermore, it has been recognized to give the greatest quality in post-workout recovery. Each component is evaluated to ensure superior purity, potency, and composition after rigorous supplier selection.
There are also a wealth of vitamins and minerals, including an amazing 40% of the RDI for calcium, iron, and magnesium, all of which play important functions in the body.
ON Pro gainer provides a good lean-gaining nutritional profile for people who don't want to spend half their calorie budget on a single smoothie, with a decent 60g protein intake for every 85g of carbohydrates.
How does it work?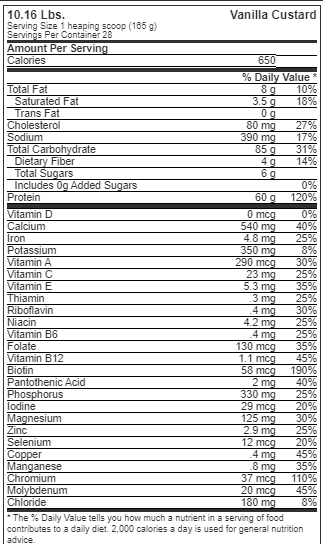 This mass gainer provides immune support along with its Vitamins C, E, and Zinc. It also has 650 calories that support your mass gains.
Other than that, it contains a 60 g protein blend that will enhance your mass gaining objectives with high-quality protein. It also helps your body restore its energy levels through its 85 g carbohydrates.
The best thing about this mass gainer is that it contains 32 vitamins and minerals and this will entitle you to a huge boost in your daily activities.
Each of these mass gainer supplements is made to the greatest manufacturing standards, all so you may realize the full potential of your body.
Pros
Proteins with a high biological value are quickly digested and absorbed
Pro Gainer contains more than 600 calories per serving
Replacing lost muscle allows you to gain lean muscle and overall mass
Low sugar, fat, and cholesterol
Cons
Can contribute to bloating if taken in excess
Has insufficient calories
Price
Pro Gainer (Double Chocolate and Vanilla Custard) [5 lbs]: $52.99
Pro Gainer (Double Chocolate and Vanilla Custard) [10 lbs]: $85.99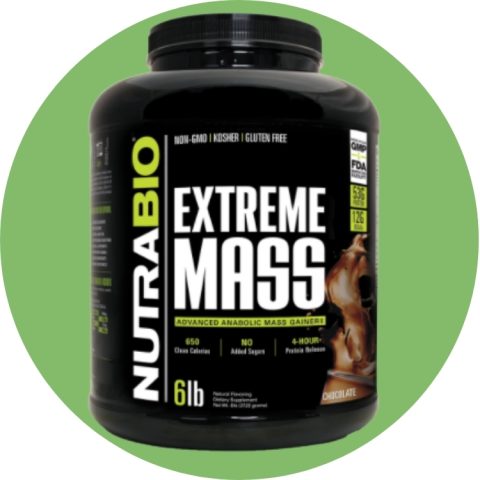 NutraBio Extreme Mass is now one of the best weight gainers on the market. Nutrabio is well-known for its clear, straightforward component formulae and a reputation for producing high-quality supplements.
NutraBio Extreme Mass has 650 calories per serving and includes 53g of protein, 6g of fat, and 99 carbs. This mass gainer contains 70% whey concentrate and 30% micellar casein protein, making it suitable for weight gain and muscle development.
It is one of the most mass gainer supplements available that gives its ingredient profile completely clear, enabling the consumer to know precisely what they're purchasing.
They make use of WPC80 in conjunction with Maltodextrin and MCT organic coconut sugar Powder. Extreme Mass provides you with enough proteins, carbohydrates, and fats to help you acquire the weight you need.
How does it work?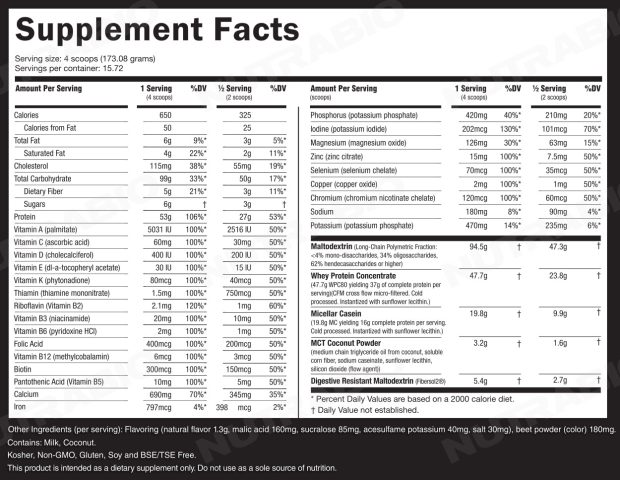 NutraBio Extreme Mass had 53 grams of protein per 170g of product and had a calorie count of 650 per serving. For many lifters, a single meal may help satisfy macronutrient deficits.
Extreme Mass employs Clean Carb technology, which provides the body with 104 grams of slow-release long-chain polymetric fraction carbs while containing just 3 grams of sugars.
It also contains the required carbs to enhance positive nitrogen retention, allowing your body to optimize recovery rate and muscle development beyond prior limitations.
Lastly, it combines fast-absorbing whey protein isolate with slow-absorbing micellar casein to provide up to 4 hours of slow-release protein.
Pros
Trasparent ingredient profile
Powder's freshness is a real thing
Improves muscle body size and strength in no time
Contains minerals and vitamins for optimal growth
Cons
Doesn't offer loyalty discounts
Limited flavor choices
Price
NutraBio Extreme Mass Weight Gainer (6 lbs): $57.99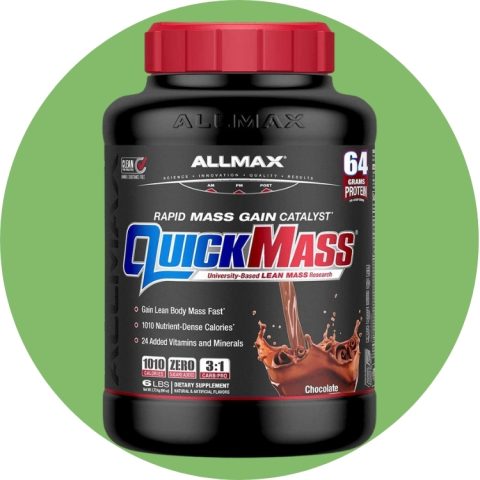 QuickMass is a mass gainer supplement that is scientifically designed for the hard-gainer and serious athlete looking for quick increases in lean body mass.
It has 1010 calories per serving and contains 56 grams of OCTA-PRO protein, 7.8 grams of Glutamine, 5 grams of Fibersol-2, Zero Trans-Fats, and NP5, a novel Calorie Activation Technology.
Additionally, it has 1010 calories per serving, which has been clinically proven to greatly enhance fat-free bulk and muscular strength. With two scoops, it makes an excellent post-workout protein drink and this can be the best mass weight gainer in your arsenal.
The Quickmass carbohydrate mix is driven by long-chain, nutritious, and complex carbohydrates like sweet potato rolled oats, and quinoa, as well as carbs that have been scientifically examined and tested like Cyclo-D and Soluble Corn Fiber, a natural prebiotic.
How does it work?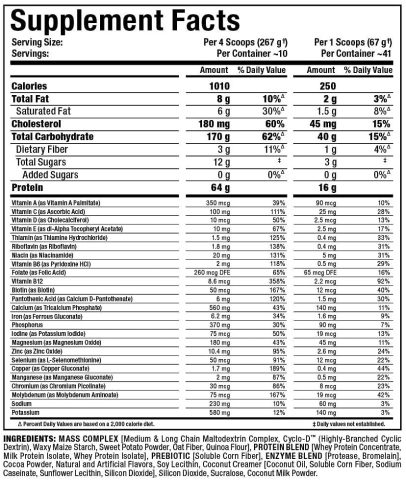 A slow-release clean-carb blend is crucial for providing your body with the fuel it needs to develop all day.
CARBPLEX absorbs up to 20 times slower than sugar, giving you the ideal MASS Power to fuel your growth.
This mass gainer delivers muscle-building amino acids that work constantly all day to recover and grow. With its exact 3:1 carb: protein ratio, you can be certain that you're receiving the nutrients you need to thrive.
It also combines 3 separate types of protein with high quantities of both essential and branched-chain amino acids combine to give a longer, more sustained protein supply to help you develop!
Pros
Easy to mix and has a great taste
Proven Carbohydrate-to-Protein Ratio of 3:1
Build healthy muscle tissue
There are no non-protein amino acids in this 100% whole protein source.
Cons
Not suitable for ages below 18
Results may vary with different individuals
Price
AllMax Nutrition QuickMass All Flavors (6 lbs): $49.99
How We Rank the Best Mass Gainers for Building Muscle Mass?
Mass gainers are a particularly difficult supplement to understand since consumers' demands might be shockingly diverse. These are some things that we take into account to choose the best mass gainer supplements in the supplement industry.
Price
This list includes a broad variety of pricing and tub sizes. Some of these selections are enormous, low-cost tubs of simple mass gainer, while others are tiny, more costly canisters of more complex mass gainer.
We've included an option at a sensible price range here to meet your demands, whether you're looking for a simple mass gainer that concentrates on macros or a more sophisticated mass gainer that also integrates micronutrients.
No matter how much you're spending on these picks, they'll be worth your time.
Protein vs Carbs
The protein-to-carbohydrate ratio varies per product, and the ratio desired by consumers varies as well. Some people prefer a boost of protein and carbohydrates after a workout, while others prefer protein and fewer carbs.
Micronutrients
Vitamins and minerals are both examples of micronutrients. Some people like to take these nutrients with their mass gainers, while others do not.
To accommodate both sorts of consumers, we've given alternatives with and without extra micronutrients, such as creatine monohydrate or digestive enzymes.
Sweeteners for Best Taste
Some folks choose to stay away from artificial sweeteners. Though there is no conclusive proof that they would damage you, we have stated whether or not a mass gainer includes these substances for individuals who choose to avoid them in favor of natural sweeteners.
If this isn't a concern for you, we've included supplements on this list that do include some artificial sweeteners.
Reviews
These are some of the most astute and forthright assessments of any product. However, before you form an opinion, be sure to read various reviews.
Remember that some individuals just write reviews for the purpose of writing, while others provide misleading information.
How to Choose the Best Mass Gainer Supplements?
Because mass gainers can be used for a variety of purposes such as gaining muscle mass, filling dietary gaps, calorie intake, and so on. You'll want to consider a few factors, as well as how they may interact with your workout routine and lifestyle, before adding a mass gainer to your supplement stack.
Protein-to-Carbohydrate Ratio
Protein-to-carbohydrate ratios in mass gainers vary from different ranges. Because they offer fewer carbohydrates per serving, the lower ratios will be great for people looking to gain lean muscle.
Athletes attempting to bulk or increase calories and carbohydrates to their diet will benefit from those closer to the one-to-five ratio.
Before you pick a mass gainer based only on calorie count, consider how the protein to carb ratio will fit into your lifestyle and training plan.
Calories
The caloric content of bulk gainers varies greatly. There are bulk gainers with as little as 200 calories and others with over 1,000 calories.
If you want to grow lean muscle mass, you should choose a food with a low-calorie count but a high protein to carb ratio. Or if you want to bulk and add overall mass, a higher calorie option with more carbohydrates and/or fats may be a better alternative for you.
Micronutrients
Many mass gainers include vitamins and minerals in their formulations. From creatine to digestive enzymes, these supplements are designed to help with other elements of your health, such as digestion and energy, rather than merely supplementing certain macronutrients.
However, other individuals may not value this and prefer a simpler formula that just supplies the calories, carbohydrates, and proteins required to maintain and increase muscle development.
Ingredients to Avoid
If you are lactose sensitive, you should choose vegan kinds; they are less likely to contain lactose, but always check the label before purchasing.
Aside from oats and protein, it is also a good idea to look at what additional supplements have been added to the mix.
Mafuctarurer Per Se
Decent mass gainers are one that is made at a GMP-certified plant in the United States.
Calories and Serving Size
Because the mass gainers described above range from 510 to 1,360 calories per serving, it's a good idea to think about your objectives and how many more calories you'd want to add to your day.
Another crucial factor to consider for other mass gainers is the serving size. While some weight gainer supplements are more concentrated than others, others need up to 4 scoops of powder per serving.
Conclusion: Best Mass Gainer Supplement
When it's difficult to obtain more calories via solid meals alone, mass and weight gainer supplements might be a terrific approach to boost muscle development.
Mass gainers are not all the same, and it is always a good idea to research the contents and nutritional facts before committing to one.
Are you a hard gainer or ectomorph trying to bulk up and add muscle to your frame? If that's the case, Optimum Nutrition's Serious Mass is the supplement for you.
It's packed with great calories, protein, carbohydrates, and other muscle-developing ingredients, and it's a terrific value for money. It's also great for individuals who struggle to get a full meal in at every sitting.
Mass Gainer Supplements FAQs
What is a mass gainer Supplement?
Mass gainers are weight gainer supplements that include a healthy balance of protein as well as other critical components for increasing mass or weight, such as fats and carbs. The goal of mass gainers is to supply people with enough calories to help them gain weight.
Weight gainers and mass gainers are protein smoothies that are designed to help you gain bulk quickly. Typically, the protein and carbohydrate levels of each gainer protein powder will be substantial, resulting in a very calorie-packed drink.
The mass gainer protein powder is often a mix with the majority being from whey concentrate, whilst the carbohydrates may be derived from carbohydrate powders or whole foods such as oats or sweet potato.
In general, a mass gaining smoothie will include low to moderate lipids to aid digestion and absorption if taken as a post-workout recovery drink.
Benefits of taking Mass Gainer Supplements?
For people who find it difficult to consume enough calories throughout the day, mass gainers are a practical and efficient option to increase calorie consumption.
Unlike traditional protein supplements, mass gainer protein powder includes not just protein but also carbohydrates and, in some cases, additional substances like healthy fats.
You will benefit from weight gainers that include a high concentration of high-quality protein per meal. Protein is a crucial ingredient for developing muscles, therefore ensuring that your body gets enough of it is critical for slim males to gain and maintain muscle mass.
Supplementing with mass gainers in addition to a diet high in protein, complex carbs, and healthy fats may help you achieve your objectives of adding muscle rather than fat.
How does Mass Gainer help your body?
The best mass gainers are also a good source of vitamins and minerals. Vitamins and minerals are essential for your body's wellness and as a result, they allow you to receive the proper mix of minerals and vitamins.
These weight gainers may assist individuals in gaining weight by providing more calories to stimulate development. However, the advantages of a weight gainer protein powder may differ based on your specific objectives, diet, and workout.
Other essential amino acids stimulate muscle development and aid in ongoing repair. They may also help prevent sickness, improve mental alertness, and give your body stamina.
Simply stated, whether you gain or lose weight is determined by the number of calories you eat and burn. You will gain weight if you eat more calories than you burn.
Like this Article? Subscribe to Our Feed!
Wilbert is an avid researcher and is deeply passionate about finance and health. When he's not working, he writes research and review articles by doing a thorough analysis on the products based on personal experience, user reviews and feedbacks from forums, quora, reddit, trustpilot amongst others.