9 Best Deodorant for Men • Top Product Reviews of 2023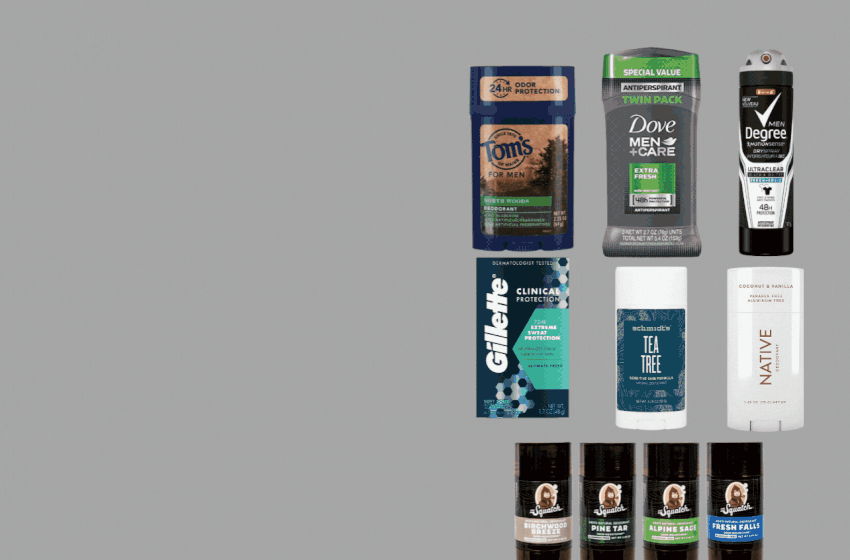 Summer may be the sweatiest season for many, but men's deodorant is a year-round need. That's because foul odor may occur at any time of year and in any season, and it's generally very unpleasant.
Finding deodorants that take care of underarm sweat seems easy as you think but it tackles more than that. With all these out there, you may find it hard to test and trial each and every deodorant that you can find.
Some of the deos and antiperspirants on the market today are created with natural, organic components. You may also discover excellent alternatives that can be tailored to your preferences and are available on a subscription basis.
That's why we have gathered a list of the best deodorants for men that will surely fit your choice. To further improve your everyday game, check out this list below.
Best Natural Deodorant in 2022
9 Best Deodorant for Men: Detailed Insight
The first of the list and the top consumer's choice goes to Tom's of Maine Wide Stick Deodorant. You will surely become manly once you smell its deep forest fragrance that will instantly activate your hormones.
With its naturally derived ingredients and natural components, the company is making sure that this product works. Additionally, its company, Tom's of Maine, adheres to the highest standards of verifiable social and environmental performance, public openness, and legal responsibility.
Among its ingredients include vegetable-derived propanediol, organic aloe vera, water, sodium stearate, and glycerin.
It also has substances that create its natural fragrance such as Humulus lupulus extract (hops), sunflower seed, zinc ricinoleate, ascorbic acid, and glyceryl laurate.
How does it work?
This deodorant contains a blend of odor-fighting hops to offer 24-hour odor prevention and help you stay cool throughout the day.
This natural deodorant utilizes hops herbs to combat odor and offer all-day protection even if you sweat most of the time.
Since it has natural components, this wide stick deodorant is aluminum-free making it a safe product to be used.
Furthermore, it has no preservatives nor artificial substances that are being added to avoid allergies.
Pros
The fragrance is indeed perfect for a manly scent
No burning effects on the armpit and no itch-effects
Easy to bring wherever you go and fights bad odor
Very affordable product and gives you more confidence
Cons
Coverage doesn't last long depending on activity
Can cause rashes to some individuals
Price
Tom's of Maine Long-Lasting Men's Deodorant (Deep Forest) [2.25 oz] 1: $10.00 – $13.00
Dove Men+Care deodorant always takes care of your skin whenever you go. With its advanced 1/4 moisturizer technology, it will not only give you a fresh scent but will also protect your skin.
Along with its powerful antiperspirant active ingredient, Aluminum Zirconium Tetrachlorohydrex Gly (15.2%), it will reduce the risk of irritation.
Additionally, it will leave a good comfortable feeling that will make you refreshed every day. It even comes in many fragrances, including cold silver, water impact, clean comfort, and extra cool.
Dove Men+Care deodorant offers everything you need to keep you dry and fresh all day, whether you choose a roll-on, stick, or aerosol.
How does it work?
This is the one deodorant that is tough on sweat and odors that don't even give skin irritation. Most dermatologists recommend this antiperspirant deodorant for men for skincare since it provides excellent sweat protection while being gentle on the skin.
It provides you with the masculine scent that you need in your daily activities and workouts.
Dove Men+Care Extra Fresh Spray for Men has one of the most efficient compounds for 48-hour odor and limit excess moisture.
Lastly, this deodorant has an energizing, refreshing scent that will keep you feeling fresh throughout the day.
Pros
Provides 48-hours odor and sweat protection
Moisturizes your armpit
Good for sensitive skin and does not leave a sticky residue
Makes you comfortable all day long
Cons
It may have a sticky feeling at first
Can cause side-effects if not used properly
Price
Dove Men+Care Antiperspirant: $10.00
This deodorant spray antiperspirant is among the best deodorant spray for men that will leave a guilt-free onto your clothes. It won't ever let your clothes down as it will work against white marks and yellow stains for your clothing.
Other than that, it can provide 48-hours protection against body odor and sweat.
It contains a composition that minimizes the stains that certain antiperspirants leave behind when they combine perspiration and your body's natural oils.
This will keep you moving from your daily routine, ranging from workouts and other sweaty activities.
How does it work?
This deodorant spray doesn't induce a tingly cold feeling and when sprayed it will give you a nice cool scent. You will also enjoy how it is easy to apply with its sprayable bottle that will give you a quick lookout.
This antiperspirant for men leaves no white traces on black clothing or yellow stains on white clothing, allowing you to wear your finest clothes, move freely, and feel fresh and safe.
The scents also are not that really overwhelming and they surely last long throughout the day. Its MotionSense technology reacts directly to body movement, delivering more freshness as you move.
These distinct microcapsules reside on the surface of your skin and when you move, friction breaks down the microcapsules, allowing more scents to be released, thus, whenever you move, MotionSense keeps you cool and clear of smells and it even protects you more the more you move.
Pros
Won't leave markings on your clothes
The more you move the more scent
Keeps you cool and fights against body odor
Gives a long-lasting sweat and body protection
Cons
The scent doesn't last long given if you have rigorous activities
Scent can't be tolerable for some
Price
Degree UltraClear Black+White Dry Spray Antiperspirant Deodorant: $13.00 – $15.00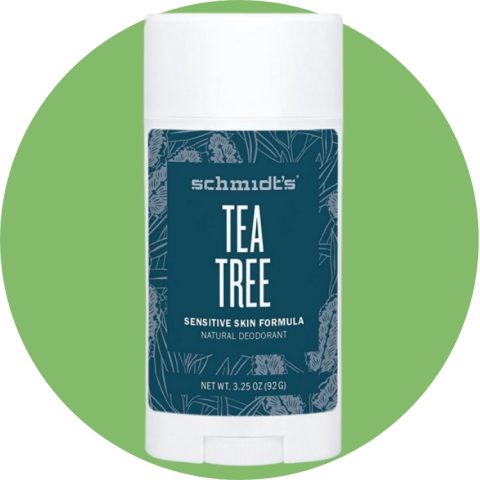 Schmidt's natural deodorant employs cutting-edge chemicals derived from plants and minerals to efficiently neutralize odor and keep you fresh. Schmidt's award-winning formulations naturally assist to eliminate odors and keep you cool.
This is an example of an aluminum-free deodorant and it includes plant-based oils and butter such as coco oil, jojoba oil, and shea butter, as well as vitamin E, allow you to smell and feel wonderful.
This antiperspirant deodorant product emphasizes a smooth, creamy consistency for individuals looking for effective, natural protection that is particularly gentle on the skin.
This milder solution, free of baking soda, utilizes natural magnesium hydroxide to neutralize the odor of sensitive skin types and is finished with essential oils renowned for their soothing and anti-inflammatory properties.
How does it work?
Schmidt's Tea Tree deodorant is a soothing, cooling, and menthol-like fragrance that will keep you smelling fresh and feeling wonderful.
This Tea Tree fresh deodorant recipe utilizes magnesium, which is considered to be mild on skin, to help neutralize odor for natural and refreshing protection, and the deodorant's non-greasy and non-sticky texture enables it to be readily absorbed.
All you need to do is apply a little quantity to get greater outcomes. However, please avoid applying to irritated or injured skin.
This deodorant stick works even better than the regular ones which are really recommended to everyone who wants to enjoy a day of full confidence.
Pros
Non-sticky and non-greasy feeling
Long-lasting lightly scented deodorant stick with a boost of natural fragrance
Aluminum-free deodorant, certified vegan, and cruelty-free
Neutralizes odor which keeps you fresh all-day
Cons
The scent doesn't last long to other users who do rigorous activities
Skin-sensitive individuals may produce rashes upon using
Price
Schmidt's Deodorant (Tea Tree): $17.00 – $20.00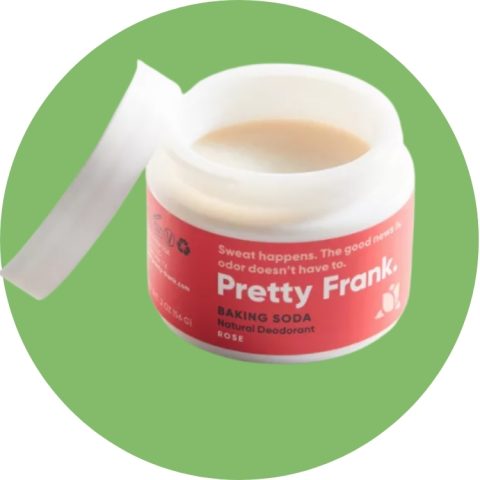 We all know that baking soda has a well-known capacity to absorb smells. Because of its capacity to absorb odors, it has become a popular natural deodorant.
Pretty Frank deodorant has baking soda that is a very natural ingredient that will help you have an odor-free feeling.
Everything in this deodorant is safe for both you and the environment. This paraben-free product is also gluten-free, vegan, cruelty-free, GMO-free, and environmentally friendly.
Its ingredients include the aforementioned ingredients as its primary component, with coco oil and beeswax, arrowroot, shea butter, and Tocopherol.
How does it work?
This baking soda mix is excellent for natural deodorant users who do not have a baking soda sensitivity.
This aluminum-free deodorant paste provides all-day odor prevention without the fluff.
Organic arrowroot powder keeps you dry, while shea butter, coco oil, and lavender or rose essential oil keep you fresh.
You will only need to scoop out a small size amount of paste per underarm then rub it into every center then wait 5 minutes for it to be absorbed by your skin.
Pros
Aluminum and paraben-free
Neutralizes odor-causing bacteria
Non-aluminum based
Has a gentle formula for easy application
Cons
Not suited for individuals who have dry skin
May produces redness and rashes
Price
Pretty Frank Deodorant: $26.00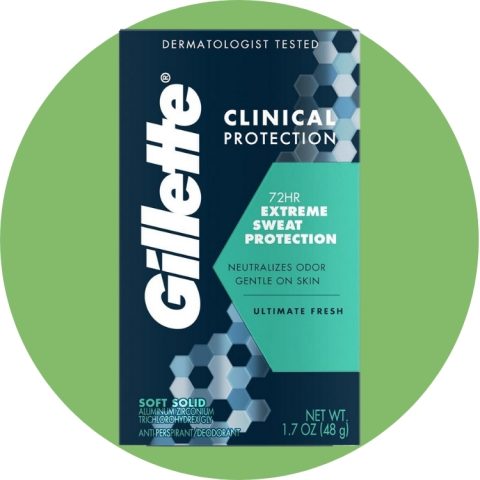 Gillette Clinical Soft Solid Antiperspirant Deodorant has its own way to treat you to a new day ahead. It has everything you want with any antiperspirant around.
With its prescription-strength wetness protection, it will surely help you fight against bad odor and sweat. It also offers double sweat protection which will give you 72-hour confidence.
Its active ingredient, aluminum zirconium trichlorohydrex gly 20%, contains 10,000 odor-fighting molecules which are effective in keeping you cool and dry.
Its inactive ingredients such as Dimethicone, Petrolatum, Tribehenin, Cyclopentasiloxane, and others will give you an ultimate fresh masculine-enhanced scent.
How does it work?
This deodorant has skincare ingredients that will reduce skin irritations upon application.
Not only it will help minimize the irritation, but it will also take good care of your skin.
It has a manly fragrance with a traditional sweetness and California citrus undertones, all with a clean, woody musk undertone.
It will keep you dry under pressure and the long-lasting light scent will keep you feeling fresh under every circumstance.
Pros
Prescription-strength wetness protection
Refreshing athletic fragrance provides all-day freshness.
Features triple protection technology and skin conditioning elements to help reduce irritation.
Contains 10,000 molecules to fight against bad odor
Cons
The odor will vary upon the lifestyle of the user
Not suitable for skin-sensitive individuals
Price
Gillette Clinical Soft Solid Antiperspirant Deodorant: $8.00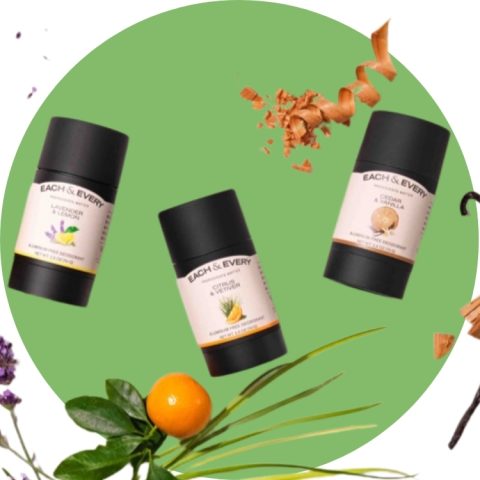 Each & Every offers a variety of fresh-smelling natural deodorants in an aromatic scent ranging from citrus to the ever-popular unscented.
If you like fresh, zesty fragrances, the Citrus & Vetiver deodorant is for you. This deodorant gives out a pleasant fragrance that may kickstart your morning by combining essential oils of lemon and orange peel with vetiver.
Each and Every vetiver's deodorant is suitable for sensitive skin since it is free of baking soda and synthetic scents. Not to mention the environmentally friendly, plant-based packaging, which allows you to smell wonderful without hurting the earth.
If you want to stay all fresh without hurting your sensitive nose, its unscented & fragrance-free deodorant suits you. It has all of the odor-fighting components that fight harsh chemicals found in other brands, but without any additional fragrances or essential oils.
How does it work?
Each and Every deodorant work in many ways as it has also its lavender and lemon deodorant that is very well calibrated in composition. It combines the soothing and cooling properties of lavender with an exciting variety of scents reminiscent of a floral garden.
With its energizing, ocean-fresh fragrance, the Coconut & Lime deodorant will make you smell like you've just returned from the cabana. In addition to coconut and citrus essential oils, the Each and Every coconut lime deodorant contain vanilla extract for a sweet and delicate concluding note.
The Cedar & Vanilla deodorant has a pleasant muskiness that creates the sensation of a peaceful stroll through the woods by combining cedarwood essential oil with vanilla extract.
Bask in the warm and earthy fragrance as Dead Sea salt, which helps to remove odor-causing germs gently.
Pros
Free of aluminum, parabens, synthetics, and perfumes
When you join up for the subscription program, you will get a 15% discount on each purchase.
Money-back guarantee for 30 days
Orders of $25 or more qualify for free delivery.
Cons
Some consumers have experienced issues with product dispensing.
There is a chance that the essential oils in the mixture may stain your clothes.
Price
Each & Every Deodorant (All-scents): $15.00
#8. Natures Signature Deodorant: Native Deodorant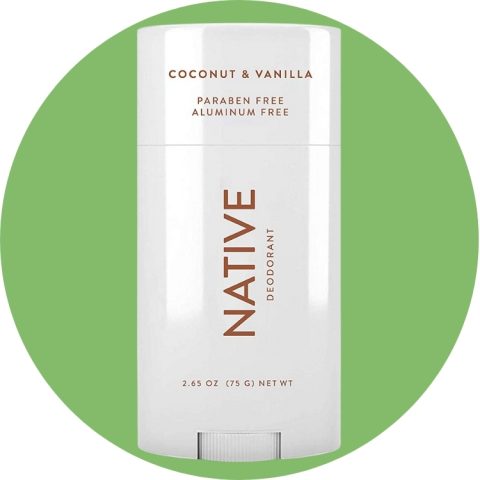 If your greatest fear is having armpit stains and a bad odor then this Native deodorant is the one for you. Self-care begins with excellent ingredients, and no one knows this better than Native.
Native's deodorant products are actually safe to use since it uses all-natural ingredients. It is even more fun because you can choose from its different seasonal scents such as candy cane, and pumpkin spice.
Their deodorant products are aluminum-free and also paraben-free which is very safe to use for users who have sensitive underarms.
Native has just 14 natural chemicals that are easy to apply, do not stain the pits of your clothes, and offer long-lasting odor control. Among these includes shea butter, beeswax, Vitamin E, coco oil, and acidophilus.
How does it work?
Native deodorant will ensure you that your skin won't dry and it will surely take good care of the smelly odor. Native's deodorant is completely solid and applies smoothly, exactly as a regular deodorant.
It even enhances the skin because of its moisturizing effects. Its Acidophilus bacteria and arrowroot powder also act as an absorbent that absorbs the wetness all day long.
Native's amazing fragrance selection maybe your favorite aspect of this deodorant. The smells are distinct and unexpectedly delicious without being fake or overpowering.
Native's deodorant is widely accessible and very effective, making it an excellent option for anybody seeking an aluminum-free solution. Indeed, it is one of the finest natural deos, with a variety of fragrances ranging from fruity and flowery to earthy and woodsy.
Pros
You can choose various scents that will suit you
Contains all-natural ingredients that are safe for your skin
Has a moisturizing effect that helps your skin to be smooth
Aluminum-free and paraben-free
Cons
It can get up to two weeks to get its maximum effectiveness.
The scent doesn't last long
Price
Native Deodorant: $12.00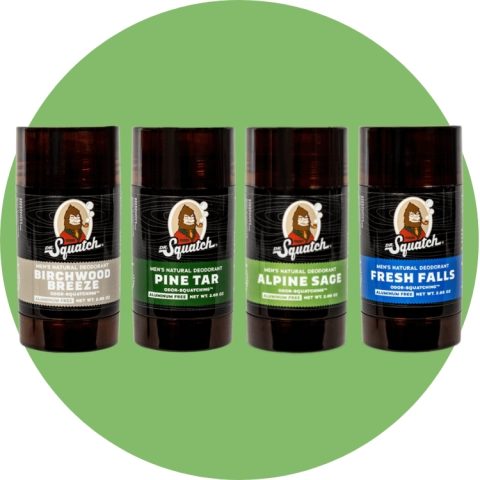 If you need to gather the confidence in every alley that you walk. This amazing all-natural deodorant will be your best buddy.
Dr. Squatch deodorant doesn't even use parabens nor aluminum in its deodorant. And that makes it an all-natural deodorant that you can trust.
Dr. Squatch natural men's deodorant keeps you fresh so you may go about your day with confidence, wherever it may take you.
With strong natural deodorizers like charcoal powder to block odor, probiotics to inhibit the development of odor-causing bacteria, and arrowroot powder to absorb moisture, these will surely combat possible sources of bad odor from every aspect.
Furthermore, Dr. Squatch offers four amazing scents, in the name of, Bay Rum, Pine Tar, Fresh Falls, Alpine Sage, and Birchwood Breeze.
How does it work?
Dr. Squatch deodorant has active ingredients that help you in your daily routine.
Charcoal powder that will help remove dust and toxins. Arrowroot powder will help absorb odor and block sweat.
It has probiotic components that fight nasty odor, giving your armpit's neutral state of scent. Its clary sage essential oil will help reduce skin irritation that most users fear.
However, it may take some time for your body to adapt to the transition from synthetic deodorant to the all-natural deliciousness of Dr. Squatch deodorant.
Pros
Has four scents that you can choose from
Provides odor protection and a neutral feeling
Paraben and aluminum-free
Gives you a fresh free feeling all day long
Cons
May produce minimal stain in your clothes
Not suitable for sensitive skins
Price
Dr. Squatch Natural Deodorant for Men: $12.00
How We Rank the Best Deodorant for Men?
These are the things that we have derived in order to rank the aforementioned deodorants in the list because not all are alike. We have to take into account these considerations upon listing each of the mentioned best men's deodorants.
Price
You may discover a deodorant that works wonderfully for you, but it's too expensive to fit into your budget every few weeks or months.
In this instance, look for a less expensive alternative that has comparable components to what works best for your body chemistry.
Safe to use
All of the products mentioned should meet certain minimum requirements for them to be clinically safe.
Conventional and Natural
Conventional deodorant brands are usually deodorant and aluminum-based antiperspirant combo products, which means they include an active component that helps reduce perspiration as well as a deodorant to help conceal any unpleasant odors.
Natural deodorants do not usually include an antiperspirant component, which means they do not prevent sweating; rather, they assist conceal body smells.
FDA-Regulated
Deodorants are regulated as a cosmetic product by the United States Food and Drug Administration (FDA) since they have no effect on any physiological function.
Ingredients
Aluminum-based antiperspirants ingredients including aluminum chlorohydrate, aluminum zirconium, aluminum dichlorohydrex, and others act as antiperspirants by blocking sweat-producing pores and inhibiting perspiration.
Benefits and Reviews
We've made sure that these deodorants in the list are proven and tested with many user reviews and clinical studies that make it a more reliable option than other deodorants in the market.
How to Choose the Best Men's Deodorant for Odor Causing Bacteria?
In order to choose the perfect deodorant for you, we should keep in mind the following:
Understand antiperspirant vs deodorant
Sometimes we tend to interchange these two, when going to the mall or a store, we should differentiate these two products beforehand.
Deodorants include chemicals such as alcohol that make your skin more acidic, making odorous bacteria less likely to accumulate and cause an odor. They are not intended to keep you from sweating.
Antiperspirants, on the other hand, include chemicals that inhibit the production of moisture by your sweat glands.
Thus, if you want to remove the odor that you experience every day, you should find a deodorant instead.
Important Ingredients
Different deodorants whether a stick or a roll-on comes with different ingredients. There are some that are conventional and some are natural.
Conventional deodorants otherwise known as aluminum-based antiperspirants include ingredients such as aluminum salts that stop the sweat glands from preventing the skin from perspiration, Cyclomethicone which is a silicon base substance in aerosol deodorants that holds ingredients together.
Other known substances include talc which is useful in absorbing moisture and triclosan that prevents the growth of bacteria that is responsible for bad odor.
Natural deodorants include baking soda and kaolin clay which neutralize odors and absorb wetness, essential oils which have antibacterial properties, hops that reduce the growth of bacteria, mineral salts that prevent bacteria from growing, and witch hazel that is a popular skincare astringent that absorbs oil in the armpit.
pH Level
Deodorants marketed as pH-balanced are often near to the skin's natural pH, which is slightly acidic at 5.5. A pH-balanced solution protects against irritation, making the deodorant more tolerable.
Allergy-prone ingredients
Before picking a certain deodorant, please ensure that to read the label first for it might contain something that you are allergic to. You should pick alcohol-free ones to avoid skin dryness and irritation.
Deodorant Types
Before choosing a deodorant, pick a type that suits your lifestyle that will be the most convenient for you.
You can choose from these different types: aerosol, roll-on, gel/cream, invisible solid, solid, crystal, wipes, scented, and unscented.
Conclusion: The Best Deodorants for Men
In choosing the best deodorant, you should select the one that best suits you. You should keep in mind the factors that can help you decide because different kinds of deodorant may be more suited to different lifestyles.
Many of us rely on deodorant on a daily basis, but it may be difficult to find one that works consistently and efficiently. The abundance of options in shops is sometimes a detriment.
But, after you've figured out what ingredients work for you and how to purchase responsibly while staying within your budget, it may be a lot simpler to confidently select a stick off the shelf and know it'll keep your armpits happy.
To sum things up, if you want to choose something that will benefit you in the long run, you can pick our Top Consumer's Choice: Tom's of Maine Wide Stick Deodorant. For it will help not only help you to stay cool all day but it can also provide the maximum odor protection that you will need.
Deodorant for Men FAQs
What is the purpose of using Deodorant?
These bacteria break down the lipids and proteins in our sweat when we perspire. As a consequence, we get the unpleasant odor we associate with perspiration or body odor, as well as itching armpits from irritation.
Deodorants are intended to aid in the prevention of body odor. While deodorant will not stop you from sweating, it will assist to remove naturally existing germs on your skin and reduce unpleasant body smells.
The majority of deodorants on the market are alcohol-based. When applied, they make your skin acidic, making it less appealing to germs. Deodorants often include scents to conceal odor and are available in solid, aerosol, or liquid forms.
Benefit of coconut oil in your underarm?
Most coconut oil-based deodorants are comedogenic, which means they are more likely to clog your pores and create ingrown hairs. This is particularly true when the qualities of these substances are present in a damp, dark area such as your underarms.
Coconut oil-infused deodorant is full of health, with components renowned for their anti-inflammatory and hydrating properties. This type of deodorant is also antimicrobial, making it an excellent natural body deodorizer for destroying odor-causing germs.
This substance includes fatty acids, such as lauric acid, which have antimicrobial properties and advantages. As a result, deodorant that contains this compound may help decrease germs in these moist regions, leaving you rejuvenated and smelling clean.
How does deodorant help your self-esteem?
According to studies, individuals with antiperspirant treatment were judged considerably more confident, trustworthy, and competent by all of the assessors than untreated ones.
From the looks of it, an individual can move freely without thinking that they are judged by other people because of their appearance and especially with their smell.
Deodorants can help remove these stresses by removing these bodily odors from the armpit thus will provide and boosting the confidence of a person.
Like this Article? Subscribe to Our Feed!
Wilbert is an avid researcher and is deeply passionate about finance and health. When he's not working, he writes research and review articles by doing a thorough analysis on the products based on personal experience, user reviews and feedbacks from forums, quora, reddit, trustpilot amongst others.