14 Top Fitness Apps to Get You in Shape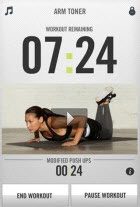 Your smartphone can be a great tool for helping you get fit and stay that way.
Since this little gadget is the one thing that's likely to be with you 24/7, you can pack all of your pertinent diet, exercise and fitness information in one place.
It doesn't matter if you are an elite athlete with lots of experience working out or if you are just starting to motivate yourself to get off the couch and begin a new exercise routine because this list contains something for everyone.
Here are a few of our favorite apps for getting into shape.
Lose It!
Whether you have major pounds to shed or just want to drop a few, this app can help you achieve your goal. Lose It! gets you started by asking simple questions about your height, weight, age and amount you hope to lose. The app will recommend a net calorie intake based on how many calories you take in by eating and how many you burn by exercising. This may sound like simple math, but isn't it easier having it all taken care of for you?
Foodeducate
It's a lot easier to make smart choices at the grocery store when you know the nutritional content of what you're buying. This app uses an integrated barcode scanner that will give you instant information on each item while you're standing in the supermarket, even assigning the food a grade of A to F. (Warning—this app is addictive, because once you install it, you'll be tempted to scan everything in your kitchen pantry.) Fortunately, the app does not scream "Put that back!" when you scan some calorie-filled goodie like Twinkies, but that could be coming in the next edition.
Calorie Counter and Diet Checker
Use this app to track your daily calorie intake with the food database of more than two million items, updated daily. Plus, you can manage your daily fitness routine with the over 350 exercises included. If you need outside motivation, this app lets you share your ups and downs with friends online.
Restaurant Nutrition
Keeping track of your calories and nutrients is fairly simple when you're eating at home and know what's in everything you eat, but things get complicated when you dine out. This app provides the nutritional information for practically every menu item served by the major fast food and chain restaurants. It can't stop you from ordering that triple guacamole cheeseburger, but at least you'll know that you've just blown three whole days worth of calories and fat so you can feel suitably guilty about it.
Fleetly
This one is great for getting you motivated to start a fitness program. The most interesting feature is the selection of challenges you can choose for yourself, or invent your own. Users are rewarded with medals and badges for completing challenges. Fleetly can also suggest workouts, track your mileage and measure your progress over time.
Runkeeper
If your favorite fitness activity is running, this app uses the GPS in your smartphone to map your runs and keep track of your distance and speed. Runkeeper can make sure you stay on your goal pace by coaching you through the headphones and giving you audio updates of your speed and time. It even has music integration so you can listen to your workout playlist from within the app. Don't leave home (for a run) without it!
Couch-to-5K
If you're such a beginner that you haven't even bought a decent pair of shoes yet, this app can get you on your feet fast. This $1.99 app promises to get you ready for a 3.1 mile run in only nine weeks. Choose one of five coaches to motivate you via audio guides through your workouts. Track, log and share your progress within the app. Every journey begins with one step, and hopefully, this one will provide the impetus you need to get up and go outside.
Keep reading because there are a lot more fitness apps out there to help get you up off the couch and moving toward better fitness and health.
Nike Training Club
If your preferred method of getting into shape is with rigorous exercise, this app can teach you new moves to integrate into your own routine. Also included are 30- to 45-minute workouts that are based on your own current levels of fitness and personal goals. Photos and how-to videos show how to do each exercise correctly. If you don't have the time for the gym or the money for a fitness trainer, this app is the next best thing.
Fitness Pro
If you decided to motivate yourself by joining a gym, this is the app that can help you make the most of your membership. Fitness Pro helps you master new exercises and teaches you how to properly use gym equipment. Most helpful is the long list of targeted exercises for specific problem areas.
Pocket Yoga
If you've been curious about the benefits of yoga but would prefer to try it out in the privacy of your living room, this app shows you how to do more than 150 poses with illustrations and detailed descriptions.
GAIN Fitness Cross Trainer
Can't decide what kind of fitness routine is best for you? This app can give you a wide range of routines from experience fitness trainers. This one has a calendar to keep track of your workouts, as well as to remind you if you try to slack off.
See Me Get Fit
Watching your body change is possibly the best motivation for keeping up with your fitness routine. This app lets you track your daily weight, workout and diet as you move toward your goal. Best of all, you can compile a photo record of your progress and share it via social media.
P90X
This interactive "extreme home fitness" app helps you stay motivated as you manage your weight, track your reps and stay on the road to your goal. Best of all, this one provides a continuous challenge that lets you achieve new levels of fitness.
Abs Workout
The most frustrating time in working toward your fitness goal is when you reach your target weight but are still plagued by "love handles" and tummy bulge. This app can help you get that flat tummy you want with a four-week program that keeps you challenged. This app's exercise videos are the sure cure for boring ab workouts.
The most useful tool for motivating yourself to walk or do your exercise routine is having music that makes you want to move. Why not create your own customized workout mix and have it on your smartphone or iPod, always ready to get you in the mood?
Those commercial workout mixes seem to rely heavily on disco-y dance pop tunes, but there's no reason you can't let your own taste in music run wild when you're putting together a set of songs for your own use. If you love country, classical or classic rock, pick a dozen or so of your favorites, put them on a playlist and call it "My Workout." If the Temptations or George Strait get your blood pumping, that's great!
If you don't have al the songs you want already in your library, go to iTunes or Amazon and shop for additions. As you progress in your fitness quest, shake up your routine with new workout mixes.
Getting out of your sedentary routine and on the path to good health and fitness isn't easy, but every little tool (or app) you can find will help you make it to your goal!
| | | | | | | | | | | |
| --- | --- | --- | --- | --- | --- | --- | --- | --- | --- | --- |
| | | | | Written on 8/26/2013 by Linda Cauthen. | | | | | | |
Like this Article? Subscribe to Our Feed!