10 Supplies You Must Have in Your Emergency Kit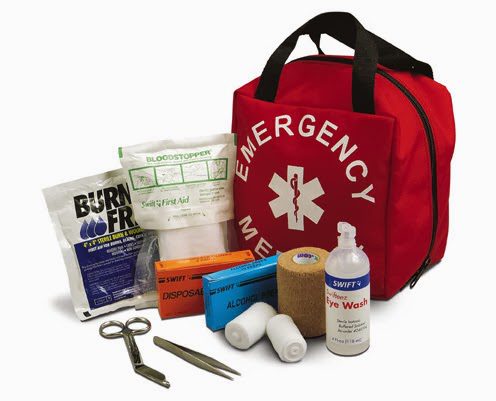 A major disaster can strike at any time—are you prepared?
What if you and your family are stranded in the snow, hit by a tornado or forced to evacuate by a hurricane?
When you're trying to deal with an emergency, the last thing you need is to be running around, looking for first aid supplies.
Most of us are totally unprepared for disasters, and don't have everything we could need in case of emergency.
Here are some essentials to keep on hand before you need them, starting with your first aid kit.
Do you have a real first aid kit? The kind that has everything you need for treating injuries in one place? You can buy pre-packaged kits in drugstores or online, but it's not that difficult to put together your own. Do one for your home and another for your car.

Bandages and adhesive tape
You should have sterile gauze pads, rolls of gauze, adhesive tape, Ace bandages and scissors in your first aid kit in case you need to wrap up a wound or sprain. Also include a box of band-aids in various sizes, and triangular bandages can also come in handy. For cleaning a wound, have tweezers and a bulb suction device. Also have a box of sterile plastic gloves.
Solutions and ointments
You may need to clean out or disinfect a wound, so be sure to pack antiseptic solution or towelettes, antibiotic ointment, sterile eyewash, cotton balls, cotton swabs and hand sanitizer in the kit. Helpful creams and ointments include petroleum jelly, hydrocortisone cream, burn ointment, calamine lotion and aloe vera gel.
Prescription and OTC medications
In case of emergency, have a supply of the essential meds you and your family members will need. They should be in the original prescription bottles in case you have to get refills somewhere other than the pharmacy that filled them. Also include a list of the meds, their refill numbers and the numbers of the pharmacies. If you have family members who have special health conditions like diabetes, be sure to include extra supplies for testing and treating. Have a list of all the emergency phone contacts for yourself and members of your family in the first aid kit. Include over-the-counter items like aspirin and other painkillers like ibuprofen (Advil), naproxen (Aleve) and acetaminophen (Tylenol).
First aid instruction book
This doesn't have to be a 20-pound medical book, but do get a basic first aid manual that covers the types of injuries you're most likely to face. Read it all the way through before you tuck it into the kit so you'll be more familiar with the contents.
Flashlight and batteries
These aren't medical supplies, but you'll need them if you're trying to bandage a wound in the dark when there's no electricity. One flashlight is minimum, more is better, and be sure to buy the expensive batteries that last longer. Check these several times a year to make sure they still work. Light sticks and matches can also come in handy. Non-medical items can be packed into a large plastic storage bin that is kept in a closet, garage or basement.
Cellphone and batteries
In case of an evacuation or other emergency, your mobile phone could be your only lifeline when you need to call for help. If you have a phone with interchangeable batteries, keep an extra in your emergency kit and another in your vehicle. Also keep a car charger that will let you recharge the phone without leaving the vehicle. Right now, before anything can happen, program your emergency numbers (police, sheriff, Auto Club, doctor, hospital, pharmacy, etc) into your phone so they'll be easily accessible when you need them. Also be sure you have apps for GPS and maps in case you get lost or need to avoid obstructions.
Blankets
Include a light space blanket that's warm but compact in your emergency kit. It doesn't hurt to keep old but clean blankets stored in a closet in case you're without heat for a period of time. Toss a couple in the car, too.
Water
While not a standard item in the usual first aid kit, this is an essential in an emergency. Stock up on bottled water in gallons as well as smaller sizes. In case of an earthquake, hurricane or water contamination, you could go days or even weeks without a source of clean, drinkable water. Also stock up on water purification tablets. They aren't guaranteed to make any water drinkable, but could improve what you have so it can be used for bathing.
Food
While it's not likely that you'll need the kind of survival rations that are good for decades, you may be stuck at home and unable to get to a store for a few days. To tide you over, stock up on a few non-perishable items like protein bars, peanut butter, crackers nuts, and canned goods like soup, chili, stew, beans and vegetables. Choose items will appeal to you and your family while going a long time without spoiling.
Baby and pet items
You can skip over this one if there are no little ones or furbabies at your house, but if you have either (or both), they will need supplies, too. Babies and toddlers must have diapers, baby food and the other necessities for keeping them clean and fed. If you have cats or dogs, stock up on pet food, litter and bags for disposing of pet waste.
Most of us aren't going to outfit a bunker for the zombie apocalypse, but it's still a good idea to be prepared for natural disasters. Having the right supplies can make the difference between getting through an emergency relatively unscathed or suffering major damage. Your own personal "emergency kit" can also be stocked with the special items that you or members of your family may need should you be faced with a disaster.
If you want the essentials already packed up for you, Amazon stocks a wide variety of first aid kits, emergency kits, evacuation kits and special kits for pets. AAA has kits for severe winter travel, emergency road assistance and a commuter first aid kit.
It's always better to be safe than sorry!
Like this Article? Subscribe to Our Feed!