Tips In Choosing A Restaurant For A Romantic Date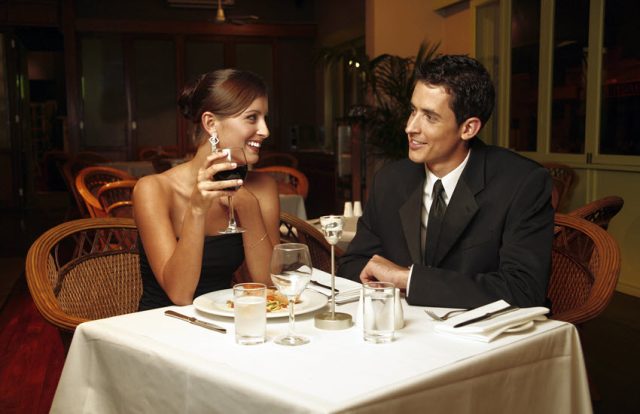 Are you needing tips in choosing a restaurant for a date?
You're out to impress. You invite your partner to meet you at a hot new restaurant in town for a romantic date after work. On the night, you drive into town only to find few car parking options. You shell out $50 to park the car and then sprint to the restaurant which is 2 km away — uphill.
Your partner is waiting on the street for you to arrive. The line for the restaurant is about 50 people long and extends upstairs and out of sight. You resign to joining the end of the line and both of you pull out your phones for entertainment during the wait.
Thirty minutes later, the line of man-bun wearing hipsters has disappeared and you are finally face to face with the maître-d'. "Thirty-minute wait for a table. You can wait in the bar or give us your mobile number".
You opt for the bar wait and ask for a menu. A quick scan reveals that there's not much on offer to suit your partner's food intolerances. At this point, the night is a massive fail. You abandon the restaurant and grab noodles from a place down the street.
How to avoid a date fail?
Research and planning are key to avoiding the dinner date fail. Let's assume you are officially a couple and this is not a date with a Tinderella or a Tinderfella (choosing a venue for a blind date is a whole other story).
First, let's avoid having to call an ambulance because your partner is turning blue at the table – that's never romantic. Find out what type of food your date is allergic to, doesn't like, or doesn't eat due to religious, ethical or other reasons. (You might want to write them down if the list is long for future reference.)
Already feeling stressed? Hang in there, you can do this!
A restaurant with special meaning for both of you is always a good choice. Otherwise, ask around for restaurant recommendations, check TripAdvisor, the restaurant guide of your local newspaper and any other sources you like.
Tip: In the desktop version of tripadvisor.com, there's a 'romantic' filter for restaurants that you can apply to the search results. Unfortunately, it's not available in the mobile app version.
Once you've narrowed down the list, check out online information about the restaurants on your short list. You might have to call the restaurant (like, speak to a real person) as well.
Here's what you should check out in choosing a restaurant for a date: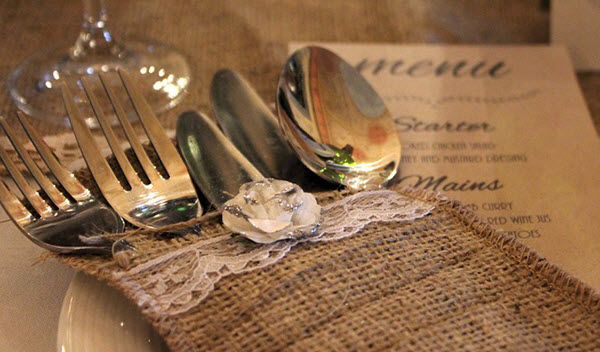 Does the menu cater for any dietary requirements you and/or your partner have? Does it have enough options that you will both like? Does the drinks list offer a range of choices (and not just beer)? If your partner is a foodie then somewhere with a degustation menu will be a winner – all those delicious little morsels that just keep on coming. If your partner is vegan then avoid the BBQ joints (just a tip!).
Do check the prices beforehand. You don't want to blow your budget on one meal and regret it until the next pay day. An expensive restaurant is not necessarily a romantic one. Show that you've put more thought into it than just choosing the most expensive place in town.
Effort = Romantic.
See Also: 7 Ways To Inject Romance Into Your Relationship
Avoid the no-bookings policy
The whole no-bookings thing that's popular with new restaurants is to be avoided. Making a booking is essential to a successful evening. You don't want a long wait before being seated or get there to find you've got no chance of getting a table.
Consider the night of the week
Which nights of the week is the restaurant open? Lots of restaurants are closed on Mondays so your choices will be less. Tuesday is a quiet night and you might get better service (but balance this with potentially being the only ones in the restaurant). A Friday or Saturday night might be more relaxed, without the thought of work the next day, but the restaurant might be crowded and noisy.
See Also: The Role of Karma in Your Relationships
Interior design – what to look for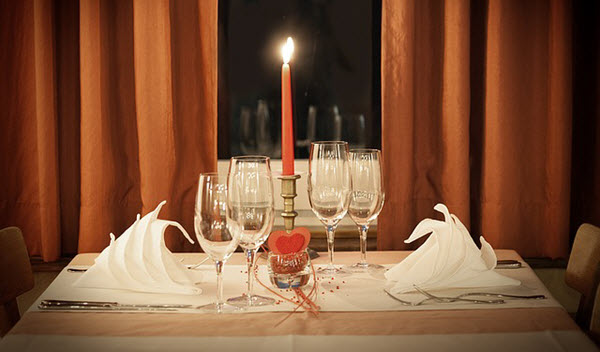 Table density
Look at photos of the restaurant. Are the tables so close together that you'll be part of the conversation with the people next to you? Awkward. Look for somewhere with tables that are well spaced. A corner table is ideal. Never the large communal table.
Women, in particular, like to have a wall behind them. Apparently it's some deep seated need to feel like no-one can sneak up behind them. A cosy corner with at least one bench seat is ideal.
Noise
The currently popular industrial design trend means lots of hard surfaces and lots of noise, which makes conversation difficult. Choose somewhere with furnishings and fittings that absorb noise. You are looking for upholstered chairs, carpet or wooden flooring (not concrete or tile) and maybe drapes. Do a Google image search for the restaurant and have a look at the photos. Also check TripAdvisor for comments about the place being noisy.
Lighting
Everyone benefits from soft lighting. Avoid restaurants with harsh fluoro strips that make you look like a zombie, fresh out of the grave. Refer to photos online and note the lighting.
A view
If you think there might be awkward silences, then choose a restaurant that offers something to look at other than each other. A nice view or a busy street scape is ideal. Avoid live music or theatre restaurants where the noise level will prevent flowing conversation.
If you want to really minimise the risk of a doomed date, then visit the restaurant beforehand (and about the same time of day as you'll be dining) and check it out.
Service
Good service is essential. You don't want to leave the restaurant in a bad mood after waiting an hour between courses or having to ask three times for another drink. Check out the online reviews for descriptions of the service. And be nice to the wait staff during your meal – they can make or break your date.
Getting there… and home again
Think about transport. If you are arriving separately then choose somewhere with a bar (or one nearby) that the first person can wait in if the second is running late. Check out parking or public transport options beforehand (don't get stung with the night-spoiling parking fees mentioned earlier). If you plan to drink then check Uber to make sure there are plenty of drivers cruising the area.
There, that was painless wasn't it? The good news is that you've probably got a list of great restaurants that will be suitable for a romantic dinner—a list you can keep handy for next time. The even better news is that you should have a wonderful night with your date.
Like this Article? Subscribe to Our Feed!

Romantic ideas and the latest research on how to keep that spark in your relationship. Visit howtoberomantic.com.au to find romantic ideas you can do now.