Accept Your Destiny and Build The Ultimate Form of Confidence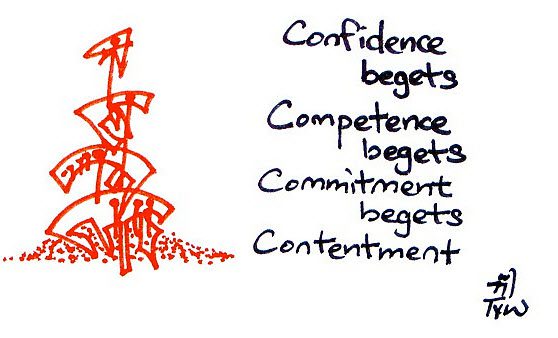 If I told you today that to reach your pinnacle of success, you not only have to be confident, but you have to be certain that your success is an imminent destiny, would you consider that as arrogance?
But what's wrong with acceptance?
Being confident is amazing. It's what all Zen moguls recommend to live a more productive and fascinating life. This is a fact, but confidence isn't infinite.
Confidence is like a body armor that takes hits constantly and must be replenished.

Throughout time as I worked on my confidence, I started doing every technique possible to raise it including affirmations, Hindu mantras, hypnotization, real world exercise's, and life hacks.
However, there is one thing that I realize that has kept my confidence at the level that helps me most. I have found myself far more consistently confident thanks to this mentality.
There is confidence… and then there is acceptance.
Accepting that no matter what, you will be a success, accepting that no matter what, you were born to achieve, accepting that no matter what, your destiny will be fulfilled.
It may sound narcissistic but at the same time, a little bit of inner arrogance can't hurt. I would rather be slightly delirious than slightly unconfident and disdained with myself.
Rather, this is exactly what it is to believe in yourself. It's hard to accept that accepting your imminent destiny of success is not a bit arrogant, but it's exactly what it is to believe in yourself. And if you are doing the work consistently, then why can't you believe in yourself?? It's counter intuitive.
In this world, you can't be so passive as not to aggressively believe in yourself. I mean, why not?? Don't think with such disdain for yourself, aim high! Think! Think about all of your great qualities, you can't lie to me and tell me that you aren't worthy of what you do. You can't lie to me that you aren't worth something, so don't lie to yourself.
Here is how you can begin to accept your destiny:
Acknowledge that you are doing the work consistently and putting your heart into it.
Acknowledge that you love what you do and that's what you want to spend your life doing.
Acknowledge that you are a valuable human being and that you are capable of innovation and greatness. Every human is capable of as much as they limit themselves to. The cliché "We only use 11% of our brain" cannot be stressed further here, and what you are capable of is entirely dependent on what you tell yourself you are capable of.
Why do I use the word acknowledge? Because the key to accepting your destiny is acknowledging why your destiny will be fulfilled- which is your worth. The minute you accept that you are valuable is the minute you will accept that what you are working for is already yours. You have to value yourself to make the time you spend valuable.
Sure, it's important that you do not let this acceptance turn you into an arrogant fool. There must be an overbalance of modesty and humbleness over the small amount of arrogance that will translate to your acceptance.
Accepting your destiny is manifesting it. You are no longer fighting off what's naturally heading your way; you are no longer debating or contemplating. Accepting your imminent destiny of success is the greatest way to manifest it.
Acceptance is the level of confidence that has brought me to where I am- from the depths of self-proclaimed unworthiness to accepting that I am a valuable entity and that I am capable of things.
And that's the mentality that I want you to inherit today.
Accept that you are worthy. Accept that you are capable. Accept your destiny of success.
| | | | | | | | | | | |
| --- | --- | --- | --- | --- | --- | --- | --- | --- | --- | --- |
| | | | | Written on 8/23/2013 by Osvaldo Nunez. Osvaldo (or Ozzie), a writer that loves to stress the importance of self trust, belief, and the law of attraction. Check out his blog at Livelesium if you want to read more on improving your mentality on life and success. | | | | | | |
Photo Credit: Yew Wei Tan
Like this Article? Subscribe to Our Feed!