9 Best Pre Workout Drink • Top Product Reviews of 2023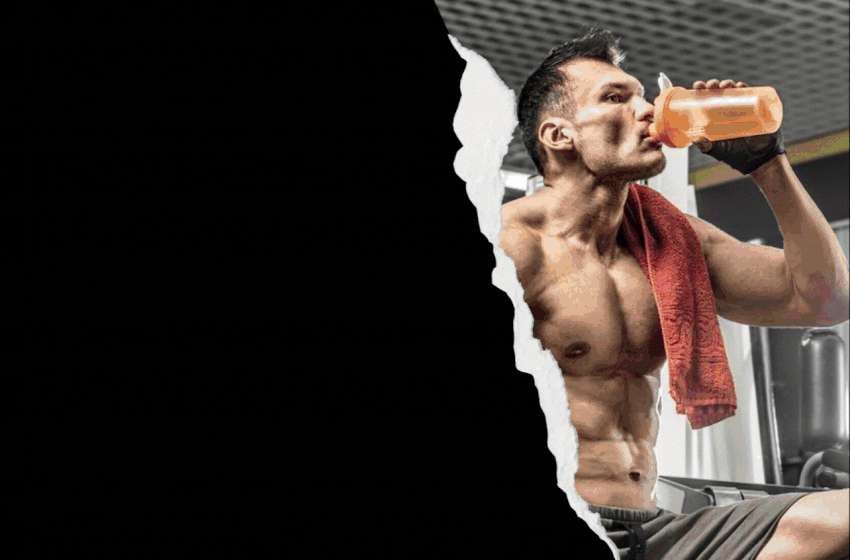 The workout takes a lot of energy and makes people so exhausted. Just like every other thing we lay our hands-on, good preparation and planning bring the best out of us.
Apart from the workout gears and clothing you get during your pre-workouts, you need something more- pre-workout drinks.
Pre Workout drinks do wonders in getting our bodies ready for the strenuous exercise and pressure we put ourselves in.
In this article, we will check out some of the best pre-workout drinks of 2021. Come with us as we give you some suggestions that give you the best during your workout.
Best Pre Workout Drinks in 2023
9 Best Pre Workout Drinks: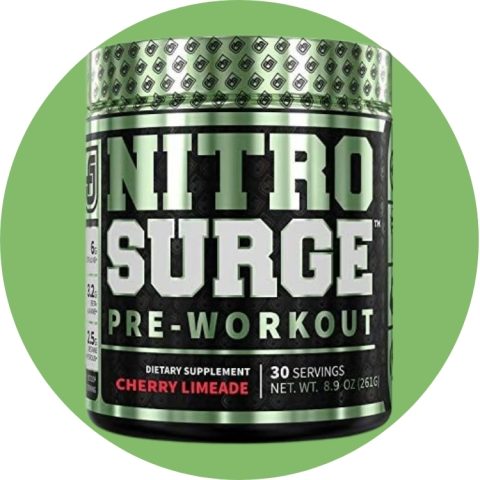 Jacked Factory Nitrosurge Pre Workout is a fantastic supplement that considers the consumers' choice. It does this by removing creatine from its ingredients while still offering strength to its consumers.
Jacked Factory Nitrosurge Pre Workout contains well-researched and proven ingredients that align with the consumers' tastes and preferences. With a scoop or two, this supplement has given the needed strength to its users.
The product contains a considerable amount of Caffeine which is more than that contained in a cup of coffee. The product, however, included L-theanine, which reduces the adverse effects of Caffeine in the body while allowing it to carry out its amazing function, such as decreasing delayed onset muscle soreness (DOMS).
It is an effective supplement that works best when used within 30 minutes of use before the beginning of the workout.
There are seven ingredients in Jacked Factory Nitrosurge Pre Workout. They are L-Citrulline, Betaine Anhydrous, Beta-Alanine, Caffeine, L-Theanine, Theobromine, and AstraGin.
How does it work?
Jacked Factory Nitrosurge Pre Workout is an effective supplement that works well when used the right way. Following the instructions given on the product results in getting the maximum result.
The instructions state that you should take a scoop, as a regular dose, half an hour before your workouts, or two scoops, as a maximum dose within the same time.
Only when this instruction is followed would the product work well.
Pros
Endurance
Increased Blood Flow and Circulation
L-Theanine
Cons
High quantity of Caffeine
Low amount of L-theanine
Price
Price Ranges:
The product costs around $25 to $35 per ounce.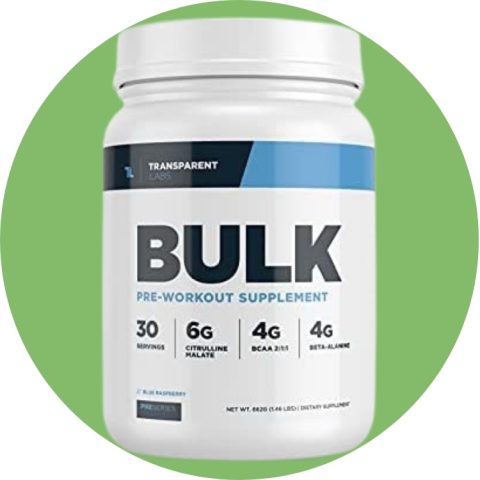 Transparent Labs Preseries Bulk is a wonderful product that provides its consumers with the drug's ingredients and measurements. This is in contrast to other pre-workout supplements, which hold their ingredients in secrecy without divulging their measurements.
Having done their research, the manufacturer of this supplement knows exactly what an individual needs to perform excellently well in their workout. The supplement provides the right ingredients that give the right body reaction needed for the exercise.
The maker of this pre-workout supplement knew just what was needed to be at the top of the exercise.
They provided ingredients that gave energy, focus, improved health, testosterone for increased muscles, etc.
Ingredients include Caffeine, 6000mg citrulline malate 2:1, 4000mg beta-alanine, 2.5g Betaine anhydrous, 1.3g taurine, etc.
How does it work?
Transparent Lab Preseries Bulk researched and knew the right combination to give off the best preparation and performance during a workout.
It is aimed at giving the user extra focus, energy, muscle growth, etc. It knows how much this would help the consumers concentrate and enjoy their workout and deal with muscle fatigue.
You might not feel the extra burst of energy after taking the supplement, but during the workout, your blood flow would increase, and instead of straining during the exercise, you are enjoying it.
Great fun is needed for your exercise, and Transparent Lab Preseries Bulk aims at providing just that.
Pros
Energy and focus
Muscle Growth
Digestion
Power
Cons
High concentration of Caffeine
Side effects of Betaine
Price
Price Ranges:
It costs around $40-$50.
#3. Best Body and Mind Connected Supplement: Kaged Muscle Pre-Kaged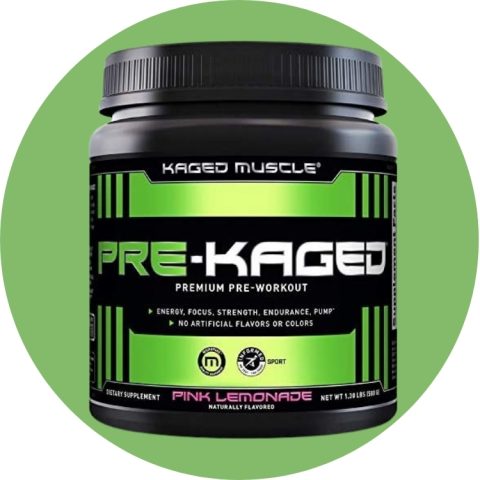 Kaged Muscle Pre-kaged is one of our best pre-workout supplements because it is a super pre-workout supplement that links the body and the mind to ensure you enjoy your workout with little or no stress.
With Kaged Muscle Pre-kaged pre-workout supplements, you are sure that your mind and body will be willing and ready to go through the strenuous exercise within a few minutes, happily.
This pre-workout supplement is also transparent regarding its pre-workout ingredients and their measurements.
You know what you are talking about and in what quantity per servings.
This product's common pre-workout ingredients include L-Citrulline, CarnoSyn beta-alanine, Hydrate and Defend 600 milligrams, Leucine Anabolic Activator 3 grams.
How does it work?
Some people might think this supplement works like magic because you can feel and see the changes within 15-25 minutes after taking the correct dose.
You feel your mind ready to take on the exercise and your muscles getting ready for the severe pressure it will be on.
With the mind-to-body connection the main aim of the product's manufacturers, you find focus, stamina, and intensity run through your body as your body shows willingness and readiness to crunch your personal best and push harder.
Pros
Ability to train harder
Reduced Caffeine Intake
Hard Muscle Pumps
Unstoppable Energy
Cons
The Caffeine is still on the high side
Beta-alanine
Price
Price Ranges: around $35 to $45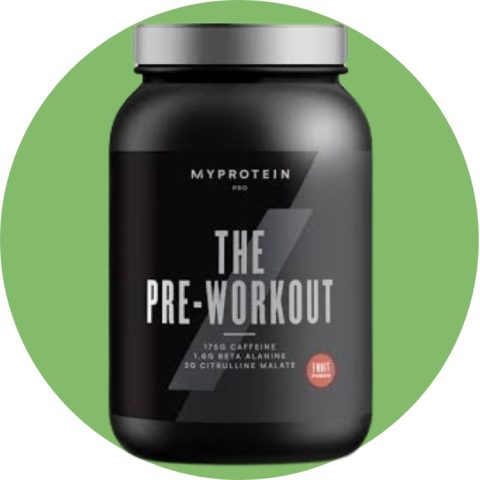 MyProtein The Pre-workout is one of our best pre-workout supplements because of its highly reduced caffeine ingredient and effectiveness in getting the job done.
The pre-workout product pushes you to your peak performance by providing the right tools- in the form of servings to attain that height during your workouts.
Whenever you feel down and has little energy to maintain a consistent workout regime, and you need something that would give you the boost you require, My protein The Pre-workout is there to provide the explosive boost you need to start your workout and end in on a high.
When you need something to help nudge you in breaking barriers, My protein The Pre-workout is there to give you all the help you want. Do you want to move from 50 sit-ups to 70 sit-ups at a stretch, you have this product to help you achieve your aim.
The major ingredients are Caffeine, Creatine, L-glutamine, AstraGin, BioPerine, Capsimax.
How does it work?
MyProtein Pre-Workout functions effectively after 20 minutes of usage. The information on the product states that only a dosage should be used daily to avoid overdosage.
The product is in powder form and should be used according to the specifications stated on the product.
For effective use, you should take in the product before you start the workout.
Pros
Creatine
Reduction of Caffeine
Vitamin B6
High array of ingredients
Cons
High Array of Ingredients
Uses Artificial Sweeteners
Price
Price Ranges: $40 to $60.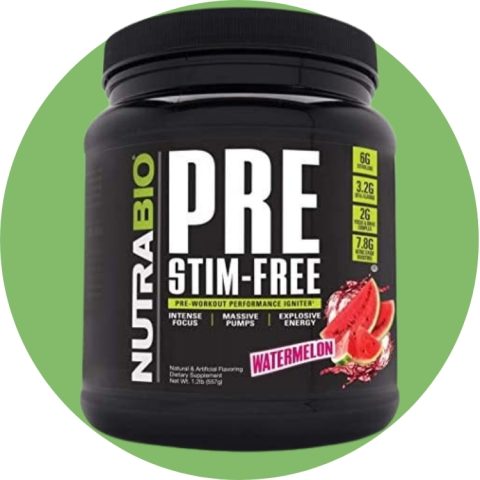 Some people are not interested in taking Caffeine or any stimulant at all, and they have been uninterested in many pre workout supplements for this reason alone. To cater fully to these people, the manufacturers of NutraBio Pre Workout Stim-Free worked and created this product.
This product contains some 15 ingredients that have been provided in their therapeutic and required doses. These doses without the stimulant have proved to be effective enough for anyone working out.
When we speak about 'workouts,' many people associate mornings with workouts, but people work out at night.
It has also been difficult for these people to take pre-workout supplements because of the high stimulant quantity in them.
There are 15 ingredients in this product. The main products are L-Citrulline, L-Leucine, Beta-Alanine, Creatine Monohydrate, Betaine Anhydrous, etc.
How does it work?
Many people are curious to know how this product works without a stimulant. While it is agreed that stimulants help the body get ready and perform well during workouts, it can be done with.
The effect of NutaBio Pre Workout Stim-Free is similar and even better than most pre workout supplements as it helps the user perform excellently during workouts. It does this without the adverse effects of stimulants such as Caffeine.
To take the product, you should put in a scoop of the supplement in 12-14 ounces of water and take it within 30-45 minutes before your workouts.
Pros
Power, Strength, and Endurance
Focus and Aim
Electrolyte And Hydration Optimizer
Stimulant free
Cons
Too many ingredients
Uses Sucralose
Price
Price Ranges: around $40 to $50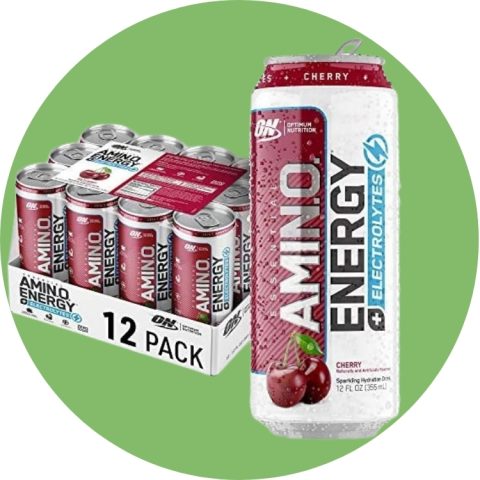 Optimum Nutrition Amino Energy is a pre-workout supplement that provides the right amino acids for your health and muscle recovery from muscle soreness.
The product comes in different flavors. These flavors have the same contents with only the taste different according to the preference of each user.
The product has electrolytes that help support muscle function and fluid balance. It also helps when it seems like the energy is dissipating.
Electrolytes play a big role in performance, endurance, and active living.
The ingredients used are Carbonated Water, Amino Blend (L-Threonine, L-Leucine, L-Citrulline, L-Theanine, L-Alanyl-L-Glutamine, Micronized Taurine, L-Lysine Hydrochloride), etc.
How does it work?
Optimum Nutrition Amino Energy comes in cans, so you do not need to mix the pre-workout powders with water. You can take the drink directly from the can.
You can take the drink anytime you wish. It serves as an energy boost.
It acts majorly as an electrolytes replacer as it helps renew your muscle when you have stressed yourself through workout or business.
Pros
Provision of Amino Acids
Low amount of Caffeine
Energy Drink can be taken anytime
Flavor choices
Cons
Low Amount of Caffeine
Low amount of Amino Acid
Price
Price Ranges: from $20 to $30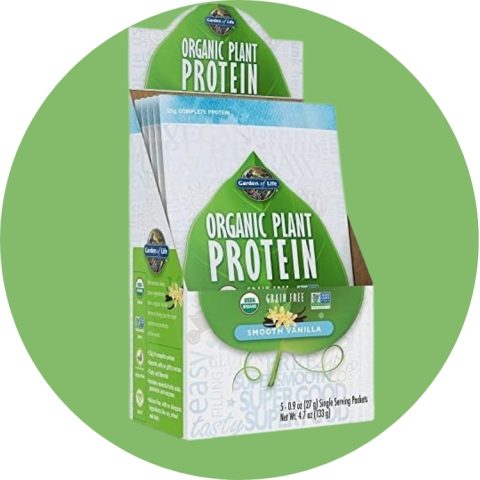 Garden of Life Organic Plant Protein Smooth Energy is a natural pre-workout supplement that provides pre-workout energy with gluten-free ingredients and no chemicals.
The product is made by individuals who believe in organic care. They believe that every solution we need can be found in the soil, and there is no need to get synthetic chemicals for them.
The product is transparent in disclosing its ingredients as it lists the ingredients with the location they are gotten from.
Garden of Life Organic Plant Protein Smooth Energy has Carbonfree and USDA organic certifications.
The ingredients include: [Organic Pea (seed), Organic Tapioca Fiber, Organic Chia (seed), Organic Flax (seed), etc.
How does it work?
Most of the chemicals used by other suppliers of pre-workout supplements provide one attribute or the other. This product provides those attributes without these chemicals.
The products are in sachets. You should mix one sachet in 8 ounces of cold water to get the best from each dose.
Each sachet contains 15 grams of a complete plant-based amino acid profile for ideal growth, muscle building, and muscle tissue repair. It also contains vitamins and minerals.
Pros
Prioritizes Vegan
Clean Product
Traceability
No chemical sweetener
Cons
Taste
Limited to certain persons
Price
Price Ranges: from $20 to $30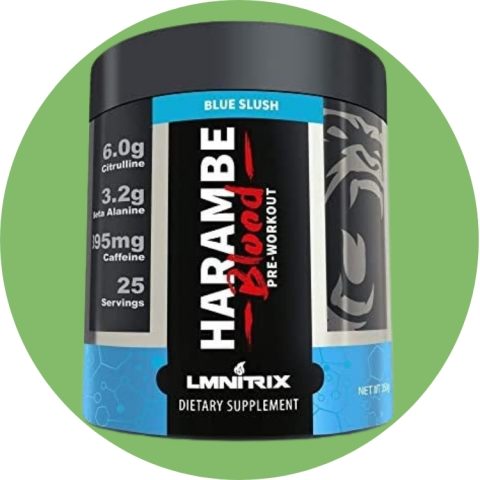 LMNITRIX Harambe Blood – Preworkout Powder for Men & Women is a high-intensity exercise pre-workout supplement that focuses on experienced athletes.
The product is for heavy and intense workout lovers as it gives you the energy you need and more. It is like a burst of light that keeps shining after a long time.
Beginners are warned to stay clear of the product because of the tolerance level it requires. All of its ingredients are on the high side.
Its effects are quite strong, and a mild workout would do very little in burning off the energy, focus, and resilience this product gives you.
The ingredients are L-Citrulline, Beta-Alanine, L-Tyrosine, Choline Bitartrate, Caffeine, Norvaline, Dynamine, and Huperzine A.
How does it work?
Only experienced trainers and athletes are to take this product because of its high concentration and energy.
To determine your tolerance of this product, it is suggested you start with half a scoop in 4-6 ounces of water. However, the normal amount is one scoop in 8 ounces of water.
The pre-workout supplement should be used during pre-workouts. This would ensure maximum gain of the product.
Pros
Functionality
Energy
Optimum Focus
High Pumps
Cons
Beginners cannot use it.
High quantity of everything
Price
Price Ranges: from $44 to $55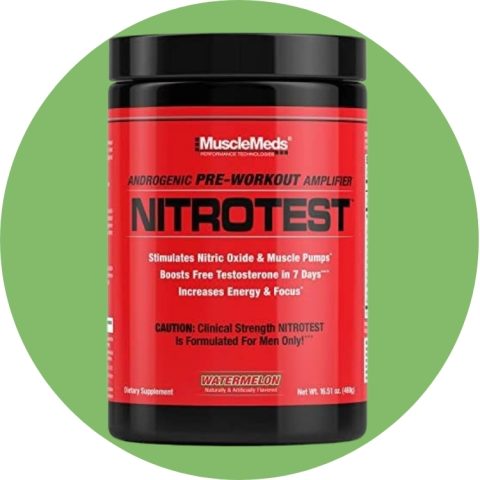 MuscleMeds Nitrotest Pre-Workout is a high-intensity exercise pre-workout supplement that focuses on experienced adult males and enhances testosterone in the body.
The product is intense workouts and targets only adult males because of its high potency. It increases the testosterone in the body.
Within 7 days of consistent use, improvement in testosterone and body-building is evident.
Its effects are quite too strong for beginners.
The ingredients include Citrulline, Arginine, Fenugreek, Beta-Alanine, Caffeine, etc.
How does it work?
This product is only for males who are above 18 years old. This warning is necessary because of the intensity and potency the supplement comes with.
It is to be used according to the instructions on the product or your doctor's prescription.
It is an effective energy booster that should be taken 20-30 minutes before starting your workouts.
Pros
Testosterone
Extreme muscle pumps
Improved Endurance
Enhanced energy and focus
Cons
Restricted to only adult males
High quantity of everything
Price
Price Ranges: from $30-$40
How We Rank the Best Pre Workout Drinks?
We rank the best pre-workout drinks by examining the different drink preferences of consumers and choose the best drinks in each class of their preferences.
How to Choose the Best Pre Workout Supplement?
You should choose the best pre-workout supplement by your preferences and tastes. All the supplements have different ingredients and flavors; you should choose the one that works for you.
Conclusion: Best Pre Workout Supplements
Pre Workout Supplements are contents that get you ready for workouts and allow you to perform excellently in each of your workouts.
Several effective and amazing pre-workout supplements provide for the many preferences and choices people may have.
This article examined these preferences and described the best of the best of each class.
For us, we recommend the NutraBio Pre Workout Stim-Free. This is our favorite pre-workout supplement because it has little or no side effects.
Pre Workout Drinks FAQs
What is a Pre Workout Drink?
A Pre Workout drink is that drink you take during pre-workouts that get you in the mood to excel well by giving you the tools you need.
Benefits of taking Pre Workout Drinks?
There are several benefits of taking Pre Workout Drinks. This includes Energy, Endurance, Muscle Recovery, Muscle Tissue Repair, Focus, etc.
How do Pre Workout Supplements help your body?
It helps keep you fit and increases your body shape as testosterone enhancer is often part of the Pre Workout Supplements' ingredients.
Like this Article? Subscribe to Our Feed!
Wilbert is an avid researcher and is deeply passionate about finance and health. When he's not working, he writes research and review articles by doing a thorough analysis on the products based on personal experience, user reviews and feedbacks from forums, quora, reddit, trustpilot amongst others.