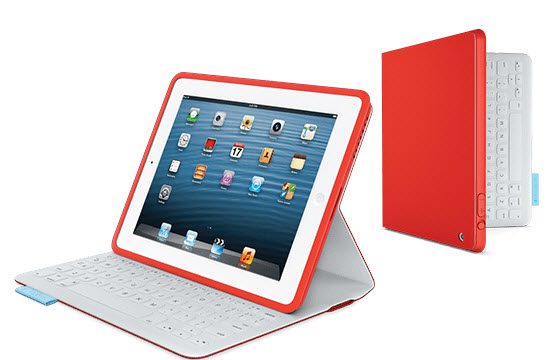 If you own an iPad or iPad Mini, you want to keep it in pristine condition so you can enjoy all of its features.
You'll also probably want the added comfort of different viewing angles plus improved typing.
Thanks to Logitech, there are specifically designed accessories that pack all of this into a single, neat functional package.
If you want to add some style and protection to your iPad or iPad Mini you won't want to miss these affordable and functional products.
Here's a closer look at them.


FabricSkin Keyboard Folio for iPad
The FabricSkin Keyboard Folio offers a protective Folio and view stand for your iPad, as well as a Bluetooth wireless keyboard in one convenient package that retails for $149.99.  It's compatible with the iPad 2 and the 3rd and 4th generation iPads, and also comes with a USB cable that you can use to recharge your Bluetooth keyboard when necessary, which is a nice added touch.  Your investment is protected by a three-year limited warranty.
Before we jump into its functionality, let's talk about the look of the FabricSkin Keyboard Folio.  It's an attractive piece that has a streamlined form factor.  The Folio weighs in at just 565 grams, so you won't have to worry about adding too much weight to your existing iPad as you travel.  More than that design, however, is the various colors that really make it stand out from other more "boring" iPad protective solutions you'll find on the market.
There are four colors to choose from, and each brings its own snazzy punch to the table, in addition to varying textures.  Mars Red Orange is bold and beautiful, and its strong, durable outer shell is ideal for those who live a hectic lifestyle.  Carbon Black is perfect for professionals looking for something striking, yet subtle, and its matte leather exterior offers a classy feel.  The younger crowd will appreciate Mystic Blue's masculine outer color, and it also has a matte leather exterior that offers a cool grip.  Inside, meanwhile, you'll find some red accents that really boost this version's appearance.  Last, but not least is Sunflower Yellow.  Its bright exterior should appeal to a youthful, feminine crowd, and its khaki interior offers a nice, mellow contrast.  Unlike the other FabricSkin folios, this one is made out of fine-weave cotton material.  As you can see, these various options really give the buyer plenty of flexibility when finding something that fits their style.
While the look of the FabricSkin Keyboard Folio is appealing, what about protection?  After all, that's what we're buying such a case for.  Right?  No worries.  It handles that just fine.  The Folio cradles the iPad just like a book cover would to a book.  In other words, it covers the touch-screen and the back panel so you have protection from all sides.  When the Folio is closed, it stays that way thanks to the magnetic clasp.  This is essential, as the last thing you want to have happen is for your expensive iPad to drop on the ground while you're moving.
Protection with the FabricSkin Keyboard Folio goes one step further though, as all of its surface area is protected by liquid repellant coating.  This comes in handy if you love to drink coffee or other liquids as you use your iPad.  While it will repel liquid, it's not recommended that you test the Folio by dipping it underwater.  Just don't test fate.
Speaking of using your iPad, Keyboard Folio lets you do so in one of two positions.  You can have it lay flat and hide the keyboard if you want to just watch videos or browse the Web.  Or, if you want to type, just put the Folio in its upright position.  The stand is magnetic and sturdy, so you won't be bouncing all over the place as you type.
Buying an external keyboard for the iPad is a must if you really want to get the most out of the tablet.  The Folio's Bluetooth keyboard supplies full-size keys that are easy to type on, even if you have somewhat large fingers.  The keys are also streamlined with the Folio's fabric, so they don't add too much bulk to your overall setup.  The keyboard will need to be charged on occasion, but not too often.  According to Logitech, you can get up to three months of battery life on a full charge.  This will obviously vary though if you are a heavy typer.
Another clever feature of the FabricSkin Keyboard Folio is its instant on/instant off functionality.  This maximizes the battery life of both the iPad and keyboard by waking the iPad once the cover is opened, and putting it to sleep once the cover is closed.
So what's the final verdict?  The FabricSkin Keyboard Folio from Logitech gives your iPad added aesthetic appeal, protection, and functionality for easier typing.  Sure, it's not exactly cheap, but if you really want to keep your iPad in tip-top shape as you travel, the price is well worth it.
Sounds great so far doesn't it?  Keep reading because there are more cool products from Logitech to help protect your iPad or iPad Mini.