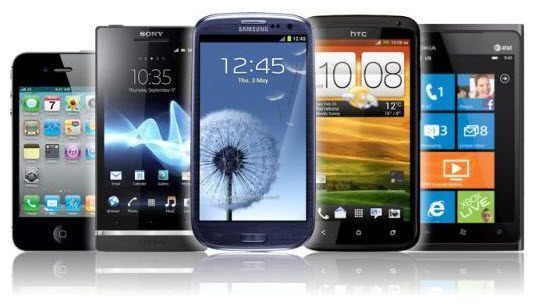 This is the biggest week of the year in the smartphone industry, because Apple just unveiled its latest line of iPhones.
The iPhone 5S and the iPhone 5C are sure to be among the top sellers of the year, but they're not the only in-demand smartphones of 2013.
Here are the facts about Apple's latest iPhones as well as eight other phones worth checking out.
There's now a huge variety of smartphones to choose from with a wide selection of features and at prices ranging from free with a two-year contract to several hundred dollars without one. Want an extra-large screen, a great camera or a phone that's waterproof? Check out these ten smartphones, all available now or by the end of September.
Samsung Galaxy SIV
Last year, the Samsung Galaxy SIII became the first smartphone to really give Apple's iPhones some major competition. As good as the Galaxy III was, the Galaxy IV is even better with a great big 5" display, microSD card, removable battery and a bunch of software enhancements. The 13 megapixel camera lets you erase photobombs and shoot with the front and back cameras at the same time. Many reviewers considered the Galaxy SIV to be the best smartphone of the year. The Galaxy SIV is available from most carriers for $200 on-contract.
HTC One
Using the HTC One is like driving a Cadillac—the sleek metal body looks hot and feels great, plus there's power to spare under the hood. The 1080p 4.7 Super LCD 3 display is big and bright, and the HTC is powered by a quad-core 1.7 GHz processor and 2GB of RAM. This phone comes in 32GB or 64GB models and comes equipped with dual mikes, front facing stereo speakers and an ultra pixel camera with optical image stabilization. The HTC One is available for about $200 on-contract from the four major carriers.
Nokia Lumia 1020
If you're in the market for a Windows Phone, the Lumia 1020 is a good choice. With its awe-inspiring 41 megapixel camera, the Lumia is perfect for photo buffs, since it delivers the best low light experience you're likely to find, along with the manual Nokia Pro Camera utility that takes camera phone imaging to a new level. This phone also comes with other exclusive Nokia apps like HERE Maps turn-by-turn voice navigation, Nokia Music+ and wireless charging. The Nokia Lumia 1020 is available for $299.99 with a two-year contract at AT&T. Pricey—but worth it if you enjoy taking photos but don't feel like springing for both a new phone and a new camera.
We're just getting going here so make sure you keep reading for more of the hottest smartphones that are hitting the streets.