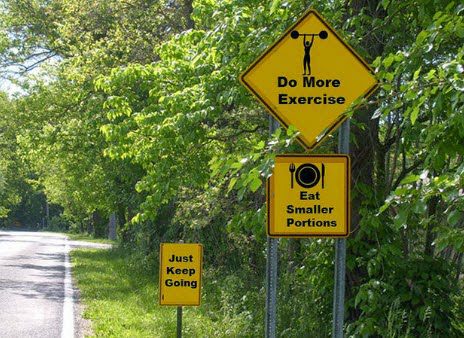 How many times have you tried to lose weight, but fell off the track after few weeks or months, and gained it all back?
When it comes to losing weight, we often have the best intentions and effective nutrition plans, yet it's our willpower that turns out to be the stumbling block.
What can you do to make sure that you have the willpower to follow through with your weight-loss plans and get the body that you always wanted?
Weight loss is much more about the mindset than about particular diets.

When we want to lose weight, we tend to obsess with diets. I mean, some people say eat fruits, some say don't eat fruits, some say eat meat, some say go vegan, some say eat grains, some say go gluten-free.. It might seem that the more you read on nutrition and weight loss the more lost and confused you become.
It's important to understand that a particular diet that you adopt is largely irrelevant, though. Sure, maybe you shouldn't follow the "Supersize Me" example, but as long as you eliminate crap,eat healthy, and exercise regularly, you will lose weight. Weight-loss industry is hyped up, but come on, it's not like methods for losing weight are some big secret. We all know the basics of weight loss by now. Yet, we still struggle, sometimes for years. Why?
In my opinion, that's because we often miss the importance of  mindset when it comes to losing weight. It's rarely lack of knowledge that is the problem, it's usually the lack of discipline. How often have you went on a diet for a week or two, then fell off the track, and regained the weight? It's hard to get the results you want without the right mindset and understanding how willpower works.
Here are 12 tips that will help you have the willpower to lose weight AND to keep it off:
1.     Make sure that losing weight is important to you.
Have you ever wondered why so many people claim they want to lose weight, but so few  manage to do that? I think the reason for that is often more complicated than mere lack of willpower. You see, we are bombarded with messages about weight loss so often that we tend to assume that it's  a worthwhile goal without ever thinking it through. Why do you really want to lose weight? Is it because you sincerely want to become healthier and to look better, or is it because you happen to live in a culture that considers gaining an extra 500 gram to be a mortal sin? You are not likely to have the motivation to lose weight  and keep it off if your only reason for doing it is that "Cosmopolitan" and "Men's Health" says that you should. Make sure that you have other reasons for losing weight than this current  weight loss hysteria promoted by the media.
2.    Understand  that losing weight and keeping it off requires long term perspective.
The only way to a healthy and sustainable weight loss is adopting the long term perspective. It's crucial to understand that it's often easier to lose weight than to keep it off. Think about it: if you eat nothing but watermelons for one week you will probably lose some weight, but you will gain it right back once you start eating normally again, so that's not a solution. However,  many people follow diets that are pretty much the watermelon diet equivalents, and hence yo-yo for years. It's important to accept the fact that you need to change your lifestyle in order to lose weight and keep it off. This will take you at least one year. Make sure that you are okay with this time frame.
3.    Focus on establishing habits that will help you to lose weight and keep it off.
It's very hard to permanently change your behaviour through sheer willpower alone. Sure, you might exercise and eat healthy for a week, but  a sudden extreme change like this is unlikely to last. It's much wiser to think in terms of developing habits: can you focus on adopting one habit every month that supports your weight loss goals? It can be anything from eliminating gluten or sugar from your diet to running every evening. This might not sound as appealing as "lose 25kg in a month" diets, but in reality, this works much better. Slow and steady not only wins the race but also stays fit for years to come.
We're just getting started here so don't lose your willpower.  Keep reading for more tips to help you stay focused and lose the weight you want.